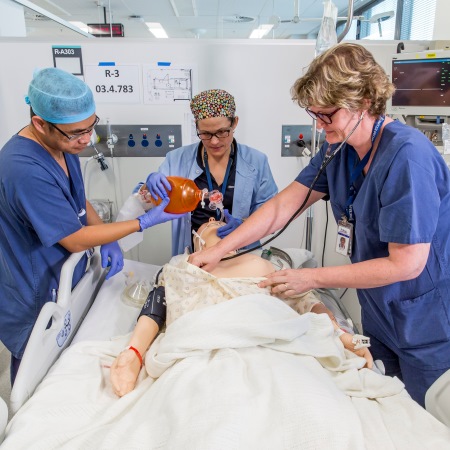 Dr Sarah Janssens, Director Clinical Simulation Mater Education, published an article in O&G Magazine's In Theatre edition, in collaboration with leading O&G simulation experts Dr Katrina Calvert of Western Australia, and Dr Doug Barclay of New Zealand.
The article explores the importance of simulation as both an education tool to ensure surgical competency is established prior to surgery, as well as a tool to test systems prior to conducting new procedures in the operating room.
The article highlights the in-utero simulation and subsequent surgery that took place at Mater Mothers' Hospital Brisbane in 2016. This vital spinal surgery was completed on a 24-week-old baby with spina bifida. Simulation was an essential component used to ensure team communication, procedural familiarity and safety prior to operating on the patient.
Dr Sarah Janssen's contribution to 'In Theatre' highlights her role as a clinician, educator and researcher in Mater Education's dynamic team of simulation educators. Her wealth of experience and knowledge stems from fellowships in Boston, doctoral research and work as an Obstetrician and Gynaecologist at Mater Mothers' Hospital.
As Chair of the Royal Australian and New Zealand College of Obstetricians and Gynaecologists (RANZCOG) Simulation Training Advisory Group she delivers strong advocacy for simulation-based medical training at a national level.
"It was a pleasure to work with my talented colleagues to contribute to the recent O&G magazine and to be able to highlight the work of the Mater Education Simulation team!"
Click here to learn more about simulation at Mater Education.