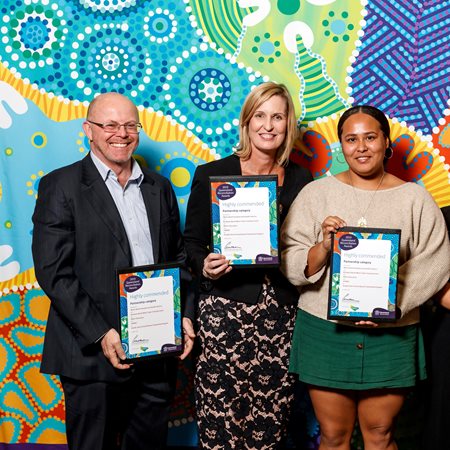 The Mater Education team recently attended the 2019 Queensland Reconciliation Awards that took place during National Reconciliation Week, 27 May to 3 June. The Deadly Start program was nominated for going above and beyond the core business to foster reconciliation and pave the way to a better future for Queensland.

The Deadly Start program is a collaboration between Metro North Hospital and Health Service, Mater Education and supporting schools to provide school-based traineeships for Aboriginal and Torres Strait Islander students seeking a career in healthcare.

The school based traineeship program received a Highly Commended Award in the Partnership category and Barry Hankinson, Director of Vocational Education and Training at Mater Education represented Mater Education at the awards.

Barry was honoured to be part of the team that accepted the award for the Deadly Start program. "We're proud to be involved in the program as it strives to increase the participation of Aboriginal and Torres Strait Islander in the healthcare workforce leading to greater diversity and cultural awareness in healthcare."

It was created to reach a target of three percent Aboriginal and Torre Strait Islander employment by 2022, provide culturally-appropriate care and to be the catalyst for generational change. Deadly Start addresses all three of these challenges from the ground up, by creating a program that takes students from recruitment all the way through to employment outcomes, with incredible support structures from simple things like access to transportation to attend training and work, through to quality mentorship with a strategic focus on higher retention rates.

Mater is incredibly honoured to be able to partner with Metro North Hospital and Health Service and congratulate all other Education programs who were also recognised during National Reconciliation Week.

Visit the Mater Education website to find out about the Deadly Start Program, contact our friendly team.