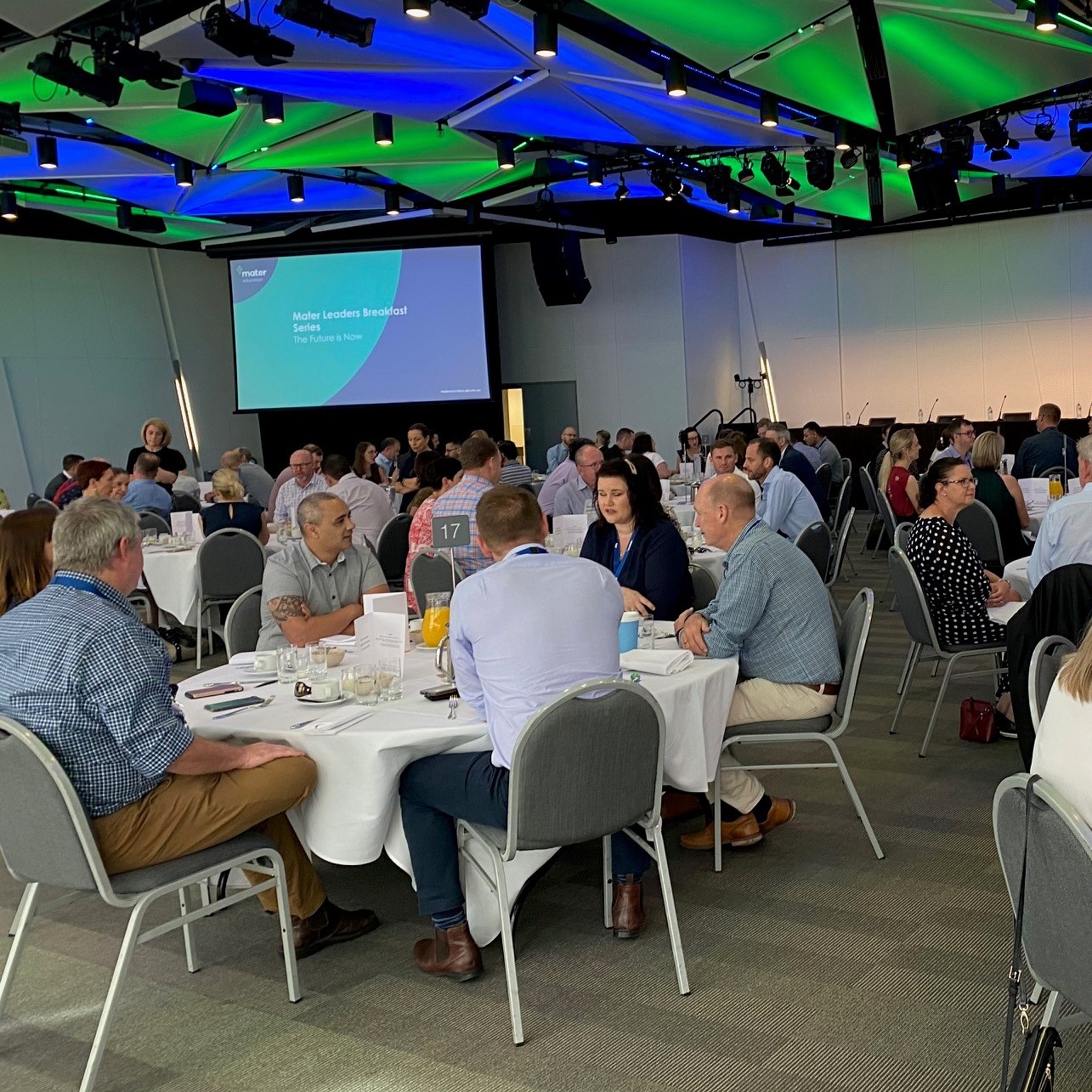 On Friday 20 November, more than 180 Mater People came together, both in-person and online, to attend the first Leaders Breakfast Series event since February this year.
Held at the Brisbane Convention Centre, and live-streamed to more than 50 Mater People across the State, the event was an incredible opportunity to bring Mater People together and discuss a very timely theme: The Future is Now.
The topic of the event framed a discussion around the rapid change we've experienced across the world over the last 12 months, and explored how Mater has adapted, and will continue to adapt to the challenges that lay ahead.
The event featured Keynote Speaker, Professor Nick Barter, a Professor of strategy and sustainability from Griffith University. Nick also runs an advisory practice with Professor Chris Fleming called 'FutureNormal', which works with executives and senior leaders to break free of conventional business thinking.
Nick's session explored sustainability from the viewpoint that we need to ask difficult questions about how we look after the 'one Earth' we have, and how organisations, like Mater, are critical when it comes to shaping our future.
This was followed by a panel discussion featuring Mater's Linda Patat, Regional Executive Director, Alastair Sharman, Chief Digital Officer and Dr Mike Beckmann, Chief Digital Health Officer. They explored what sustainability means to Mater and how important it is to engage our people and our consumers in designing our future.
In the months since the pandemic was declared, Mater has come together across Queensland to become the largest Catholic not-for-profit healthcare provider in the state. This was the first Leaders Breakfast Series event since the pandemic that has involved the wider Mater family.
Rebecca Loughnan, HR Lead for Central Queensland, found the event incredibly valuable for the regional locations.
"It was fantastic to be able to connect with the winder Mater team and engage in the rich conversations by our leaders. The content was confronting and gave me a lot to think about, both at work and at home. It is great that members from Central Queensland were able to remotely attend, which is a benefit of now being part of Mater Queensland."
With business events back in operation again, the event is the first of many that will bring Mater leaders together, so we can continue meeting our Mission.