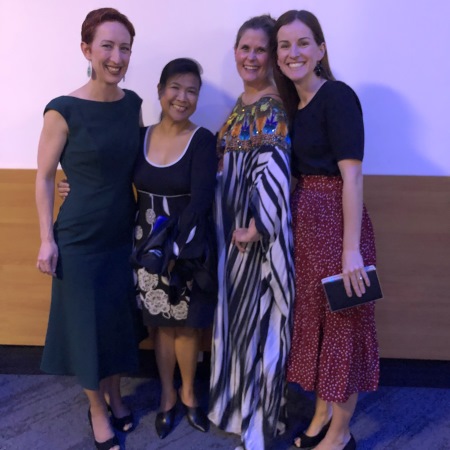 Each year, Mater Education takes on Simulation Fellows to improve Mater's current services through the provision of simulation based activities. Simulation Fellows work closely within their respective departments, improving systems of care and providing other colleagues with education relevant to their field of work in a safe, simulated environment. We had the pleasure of speaking to the 2019 Simulation Fellows to hear of their key achievements during the year.
Dr Joy Domingo-Bates
Neonatology
Dr Joy Domingo-Bates focussed on increasing staff's exposure to bedside simulations of deteriorating patients within the neonatal critical are unit. Due to Joy's work, participation numbers increased from 30 participants in 2018 to 98 participants in 2019.
Additionally, Joy embarked on a quality improvement process to reduce intubation rates for babies born prematurely. Based on her findings, she successfully developed and implemented practice change using simulation. An impressive combined 78% of staff in Birth Suites completed the education and simulation training with immediate effects reflected in intubation rates.
Felicity Prebble
Senior Physiotherapist
Felicity Prebble, Senior Physiotherapist, was Mater Education's first Allied Health Simulation Fellow. She developed and implemented simulation training for medical and physiotherapy staff needing to initiate respiratory support for patients in a ward setting. Felicity presented the results of the project at the Australian Physiotherapy Association's Annual Conference in Adelaide, demonstrating an improvement in staff confidence in the delivery of high-flow oxygen therapy.
Felicity also initiated additional staff training in basic life support and ran a simulated cardiac arrest, leading to the identification and improvement of several systems issues with code blue response within this area.
Dr Kate Strawson
Obstetrics and Gynaecology
Through her fellowship, Dr Kate Strawson identified the need for additional training in gynaecological surgery for specialist trainees. Working with the simulation team, Kate developed a workshop focusing on skills required for vaginal surgical procedures. In the absence of commercially available simulation models, she developed new low-cost simulators for training, which improved participant's confidence in completing these procedures. Prior to the development of the workshop, there were no simulated, surgery-specific training courses offered to trainees.
Kate also focussed on delivering simulation training to maternity staff in emergency response, both in courses in the simulation centre, and in the clinical environment.
We're looking forward to seeing the achievements of our 2020 fellows, Cass Elsmore, Allied Health Simulation Fellow, Dr Kaycee Hocking, Neonatology Simulation Fellow and Dr Katy Culliney, Obstetrics and Gynaecology Simulation Fellow.
If you'd like to learn more about the use of simulation in education and how your team can benefit, click here.

Pictured L to R: Dr Sarah Janssens, Dr Joy Domingo-Bates, Dr Kate Strawson, Felicity Prebble.