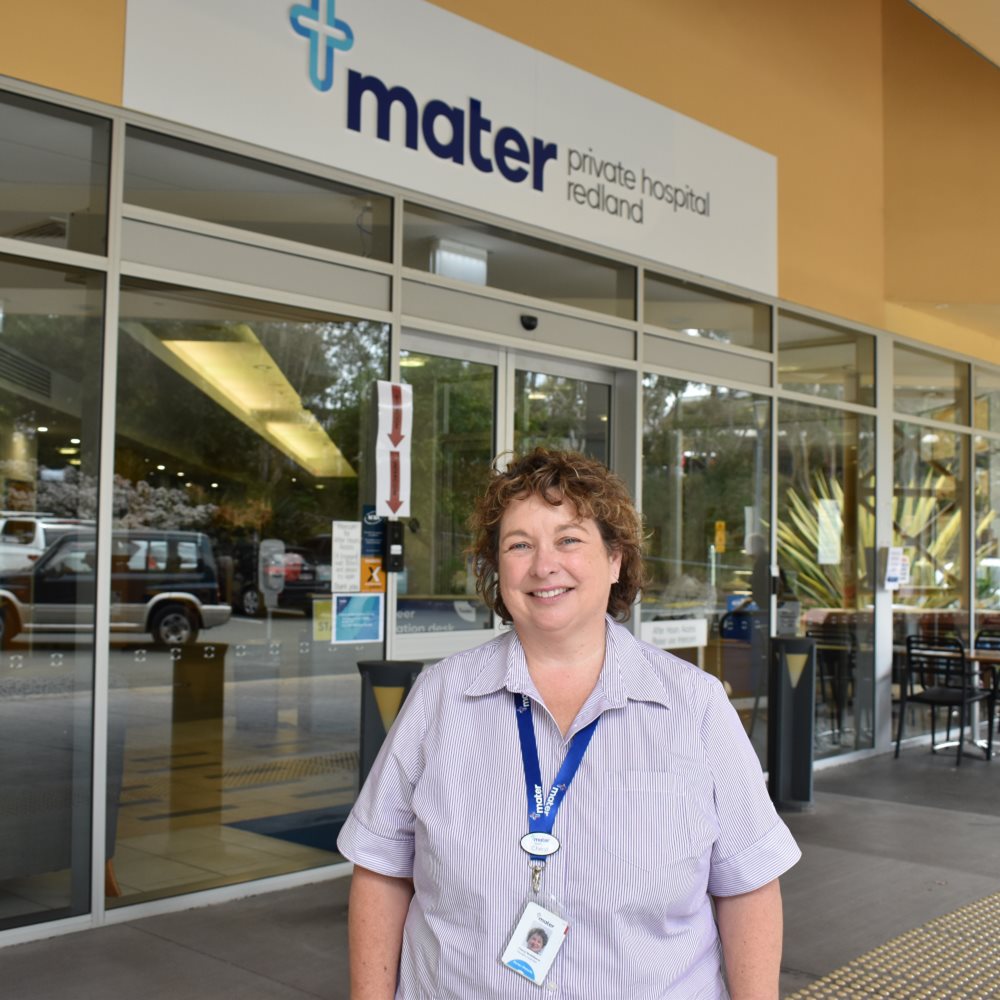 Cheryl McWilliams has worn many hats over the years working at Mater Private Hospital Redland (MPHR), and as the hospital celebrates its 20th anniversary this week, so does Cheryl who has been there since day one.
"I have been privileged to work in many areas of the hospital over the 20 years. Before the hospital was even built, I was an ambassador. Once we moved in, I fulfilled my role as a day surgery endoscopy nurse and clinical nurse on the medical and surgical ward. I then transitioned to the education team, working as an after-hours manager where I developed the Bed and Staffing Manager role. I am now fortunate enough to lead the fabulous education team at the hospital."
Cheryl's current role falls within the Mater Education team, which specialises in healthcare education for staff, the community and qualified healthcare professionals. This arm of the business has similarly evolved to offer more healthcare education opportunities over time.
"I have had the opportunity to bring simulation and education programs like Advanced Life Support, staff resilience programs and Speaking With Good Judgement to the staff members at MPHR as well coordinating all our mandatory training and orientation requirements. "
Cheryl has first-hand seen the hospital provide high quality and compassionate care to the Redland community.
"In the 20 years since MPHR first opened for patients, it has consistently maintained high standards of patient care and patient satisfaction. The services offered have dramatically increased over this time and the hospital has a small but bustling environment. Some of the early challenges for MPHR included community awareness and becoming known for the services we could provide in the local area, but now we rarely have an empty bed!"
"Having a local private hospital has been a great option for residents who can have their babies, have surgery, receive medical, oncology and rehabilitation services at a hospital near to them and their families."
It's staff like Cheryl who are making a difference to the community every day, and is what has kept her grounded and grateful for the past 20 years.
"The biggest benefit of working at MPHR is being part of the Mater family, where I know and am known by nearly every staff member; where a culture of providing excellent patient care has remained the goal; where I know I can go to work and actually make a difference in someone's day!"
This huge milestone for MPHR is one to be celebrated with all Mater People, old and new.