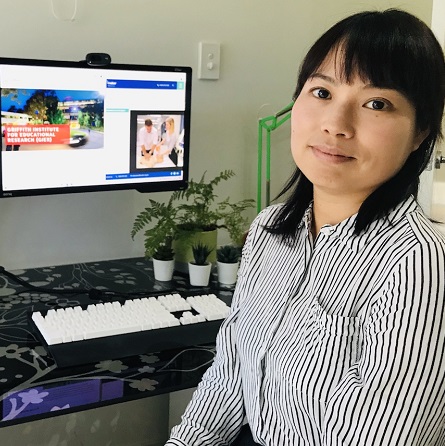 Griffith University Research Fellow Dr Yoriko Kikkawa has been awarded an Advance Queensland Fellowship that aims to prepare frontline healthcare professionals working with infectious patients during pandemics such as COVID-19.
The three-year collaborative project between the Griffith Institute for Educational Research and Mater Education will identify safety risks emerging during the COVID-19 pandemic to determine the most effective responses.
As the latest initiative from a long-standing partnership between the Griffith and Mater, the project is set to both provide instant preparedness for clinical staff, as well as contribute to long-term educational research.
"This project will use simulation training to examine how teams of doctors and nurses integrate COVID-19 protocols into existing practices for medical emergencies, and how they affect performance under pressure,'' Dr Kikkawa said.
"It will help doctors and nurses improve infection control practices and reduce in-hospital transmission among staff and patients."
The research will benefit healthcare workers across Queensland where access to education is limited and provide opportunities to improve training programs for other emergency medical response and transport services such .as Queensland Ambulance Service and the Royal Flying Doctors.
"Our team at the Griffith Institute for Educational Research has been investigating airline pilot training for more than a decade,'' said Associate Professor Tim Mavin, a previous airline captain and current Wing Commander with the Royal Australian Airforce Reserves.
"We began a collaboration with Mater Education in 2017 and brought our research experiences from aviation into improving simulation training in maternity emergency medicine. We have learnt a lot from each other!"
Director of Clinical Simulation at Mater Education, Dr Sarah Janssens said Mater's partnership with Griffith has long provided meaningful change for the healthcare community.
"By combining some of the country's leading minds in educational research with the latest innovative expertise in education delivery, we are able to bring meaningful change for current healthcare cohorts and the next generation of health professionals and researchers."
"We are excited to support Research Fellow Dr Yoriko Kikkawa with Griffith to see this project meet unmet needs across educational research."
"The insights from this project will undoubtedly bring benefits to the current healthcare workforce workers in ensuring their safety while continuing to combat the ongoing COVID-19 pandemic."
Pictured: Fellowship recipient, Dr Yoriko Kikkawa