Aboriginal and Torres Strait Islander students from across South East Queensland have experienced a day in the life of a physiotherapist thanks to a new pilot program at Mater Hospital Brisbane.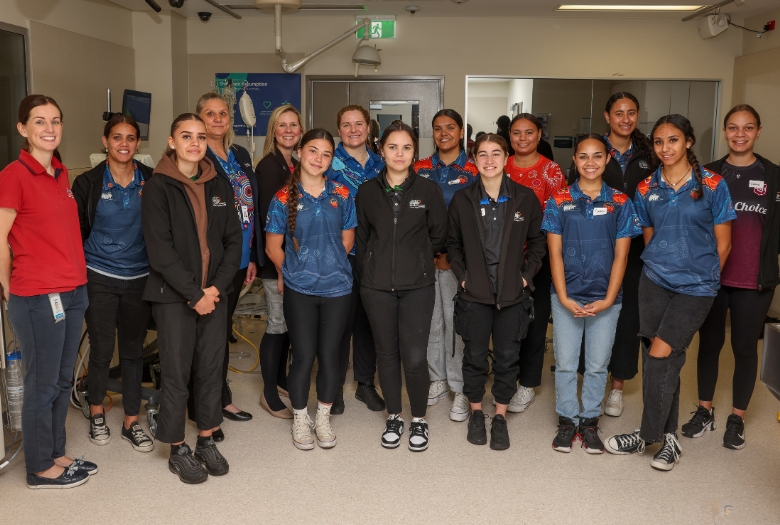 The school-based trainees from the Institute for Urban Indigenous Health, Pathways Our Way Academy (POWA) were part of The High School Health Adventure program for First Nations students, run by Mater Education, in conjunction with Mater Physiotherapy.
The enthusiastic cohort learned how to strap an ankle injury, assist with movement and baby handling techniques and took part in simulation physiotherapy sessions in a make-shift Intensive Care Unit.
Mater physiotherapist Felicity Prebble facilitated the program and said that, according to the Australian Physiotherapy Association, only 0.7% of physiotherapists are recognised as a First Nations person [1].
"Increasing the representation of this population in healthcare is vital to ensure we are delivering considered and specific healthcare," Mrs Prebble said.
"Research has shown that increasing the involvement of First Nations people within healthcare delivers positive outcomes, helping to close the gap and leading to increased cultural awareness, understanding and exposure."
Mrs Prebble said the one-day pilot program was offered to 10 students and the next program, to be held in October, will be made available to more.
"Eligible students were either completing their Cert III in Allied Health Assistance, interested in working in healthcare or physiotherapy or highly involved in sport and physiotherapy – and felt the program could be a potential future pathway of interest," Mrs Prebble said.
Mrs Prebble said students from schools across South East Queensland including Hymba Yumba, at Springfield, and Bray Park State High School, in Moreton Bay, were able to attend Mater's physiotherapy gym and complete musculo-skeletal assessments while role-playing as physiotherapists and patients.
Other students were from the Gold Coast, Logan and Bayside regions.
Mater Foundation has provided $10,000 to fund the program for First Nations high school students, with the aim of increasing representation of Aboriginal and Torres Strait Islander people in the healthcare workforce.
Year 11 POWA Allied Health Assistant trainee Cienna Fuller-Chapman, who attends Hymba Yumba Independent School at Springfield said she was not aware of the many different career paths associated with physiotherapy.
"I wasn't necessarily interested or knew much about physiotherapy until I started my Allied Health Assistant school-based traineeship with POWA. Now it's certainly something I would consider for my future, and it has opened my eyes to new opportunities," Cienna said.
"The highlight of my day was the hands-on and interactive experience of exercise physiotherapy."
Cienna is studying a Certificate III in Allied Health Assistance and said the event was a privilege to be part of.
"It provided me with a wider range of knowledge of physiology and helped me to form a more inclusive idea of what I want to do in the future career-wise.
"The thing I love about healthcare is that there are so many career pathways."
Mater Reconciliation Action Plan Manager Jo Jones said it was important to provide opportunities to First Nations students to learn and understand the day-to-day role of a physiotherapist and to explore possible career pathways.
Ms Jones said Mater's Reconciliation Action Plan aims to create culturally-immersed environments which nurture the career aspirations of Aboriginal and Torres Strait Islander people.
Director of Mater Physiotherapy Michelle Grant said it was important to open the door to career pathways which Aboriginal and Torres Strait Islander students may not have had exposure to.
"The program is a great way for students to experience first-hand what working in the healthcare field may look like," Ms Grant said.
"I hope we will get the opportunity to work alongside them here at Mater in the future."
Are you or do you know a high school student interested in healthcare? Check out our upcoming High School Health Adventure courses and enrol here: mater.li/HSHA
---
[1] Australian Physiotherapy Association - Aboriginal and Torres Strait Islander physiotherapists currently comprising around 0.7 per cent of the entire physiotherapy workforce.