A Queensland single mum who left her family home at the age of 14 has turned her life around and graduated with a Diploma of Nursing in honour of her daughter.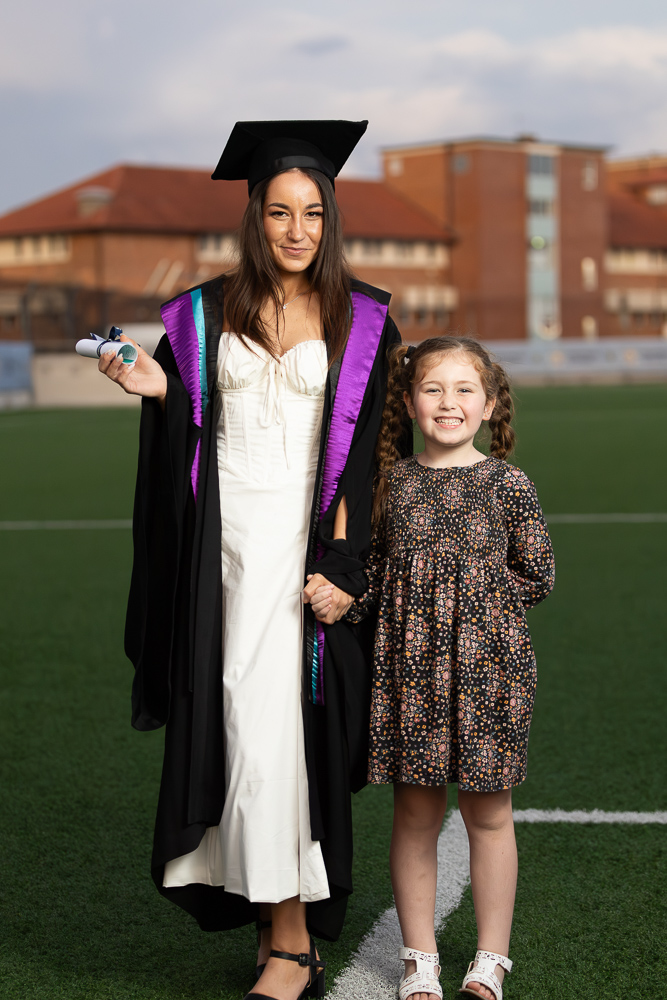 Mater Education awarded Moreton Bay mum Latoya Wesley, 26, a Financial Hardship Scholarship and has graduated with a Diploma of Nursing alongside 90 fellow graduates.
Ms Wesley said being awarded the Mater Education nursing scholarship "meant everything to me".
"I am very grateful for the chance Mater has given me. I wouldn't haven't been able to otherwise pursue my dream career in nursing," Ms Wesley said.
The Burpengary mum who gave birth to her daughter Rosella when she was just 19 also helped raise her younger sisters Shadai ,19, and Summa, 15.
She persevered with her studies to give her six-year-old daughter Rosella "a better life".
"I worked hard to start my own home-based beauty business and chose to study the Diploma of Nursing to pursue my dream of becoming a midwife," Ms Wesley said.
"Since I can remember, I have wanted to be in a position where I can help people. I've always felt a want inside me, to make a difference, big or small.
"As a teenager, home for me was quite a toxic environment.
"I had my daughter at 19, while raising both of my younger sisters on and off. All three of my cousins under the age of 16 also lived under my roof for two years. I cooked, cleaned and made sure their education was put first.
"I received no government support for them. I have never had any handouts in life. Every single day, I spent endless nights awake, I didn't wait for anything."
Ms Wesley completed her Certificate III in Health Services Assistance with Mater Education in 2021 and as part of her Diploma of Nursing studies undertook placements at Mater Mothers' Hospital in South Brisbane as well as the orthopaedics ward at Mater Hospital Brisbane.
"The educators were my support team, they were there for me during the hardest times and the happiest times," she said.
"It was really hard to study with a little one as I didn't have much support. Juggling my daughter's school and studying was well worth it – we managed to get through it."
Ms Wesley said Rosella and her and mother's attendance at her graduation, held at Edmund Rice Performing Arts Centre at St Laurence's College in South Brisbane, made the day extra special.
"I was super emotional - I want her to know she will be in a better place than I ever was when I was her age," she said.
Mater Education Program Coordinator – Diploma Programs Lauren Andrew said: "Latoya had overcome many challenges in her life before her studies with us, and Mater Education is proud to support Latoya in her journey to improve her life for both herself and her daughter".
Mater Education offers scholarship opportunities for students identifying as Aboriginal and Torres Strait Islander, those with refugee backgrounds as well as those facing financial hardship.
"The purpose of our Financial Hardship Scholarship is to provide educational opportunities to students for whom the financial cost of education is a barrier preventing them from studying.
"By removing this financial barrier scholarship recipients can obtain their qualification and enter the workforce as an Enrolled Nurse."
Apply now to study a Diploma of Nursing in Brisbane, Springfield or Townsville in 2024: https://mater.li/ApplyForDoN