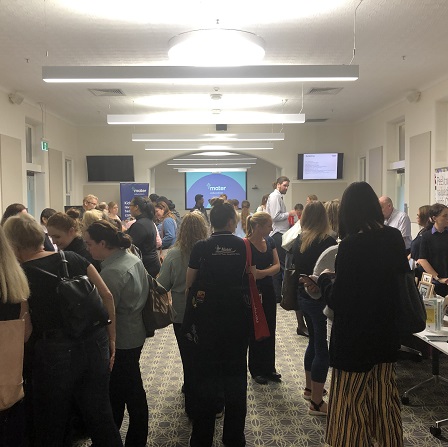 Last week Mater Education's vocational education and training team hosted an inaugural Careers Day for our students, as they prepare to graduate and embark on their careers or further study pathways. This is just one of the ways in which Mater supports its students by providing opportunities to succeed in their healthcare career.
The day hummed with students who had the opportunity to speak with representatives from acute, primary and aged care providers as well as a range of Mater Education's university partners, should they wish to continue their study. Mater Education's senior educator, Susie Gray, said the event was a great success.
"The feedback was great, the buzz was infectious and the industry representatives were completely engaged with our students".
Students also had the opportunity to hear from Diploma of Nursing graduate, Ivan Barnjak, who discussed his career journey and the various pathways available to students after graduation. His story was particularly interesting, as he began his studies in Community and Youth Work before completing his Diploma of Nursing and then becoming a Registered Nurse. Ivan has recently completed his Masters in Nursing.
Ivan believes he has found his passion in nursing, particularly in working with mental health patients. Without the help of educators—who became his closest mentors—Ivan said he wouldn't be where he is today.
"At Mater Education you are in a great environment to learn and grow".
Director of Learning and Development, Katherine Jackman, also spoke with students, reaffirming that here at Mater Education "we're fortunate to be located on the hospital campus and therefore in the very heart of the healthcare profession at Mater. Our students are infused with Mater's Values and have the opportunity to learn from the very best educators and healthcare professionals!"
If you're considering a career in healthcare, take a look at how Mater Education can take you there.