It can be easy to assume that anyone who works for a hospital works directly in healthcare. However, it takes all kinds of professions to provide patients with high quality care, including food and beverage service.
Educating our food services teams is internationally trained and experienced, Jutta. Jutta joined the Mater Education team as Education Coordinator – Food Services in early 2019 after a long and successful career in hospitality.
"I have worked for most of my life in the hospitality industry as a chef. I trained in Germany, worked in Switzerland, London and immigrated to Australia in 1995. I also completed a 'Master Chef' qualification whilst in Germany. I realise 'Master Chef' is recognised mainly as a TV series here in Australia, but in Germany it is a very sought-after trade qualification. In my career I have worked mostly in international four and five star hotels and resorts and overall, I have spent 10 years as an Executive Chef and two years as a Food and Beverage Manager."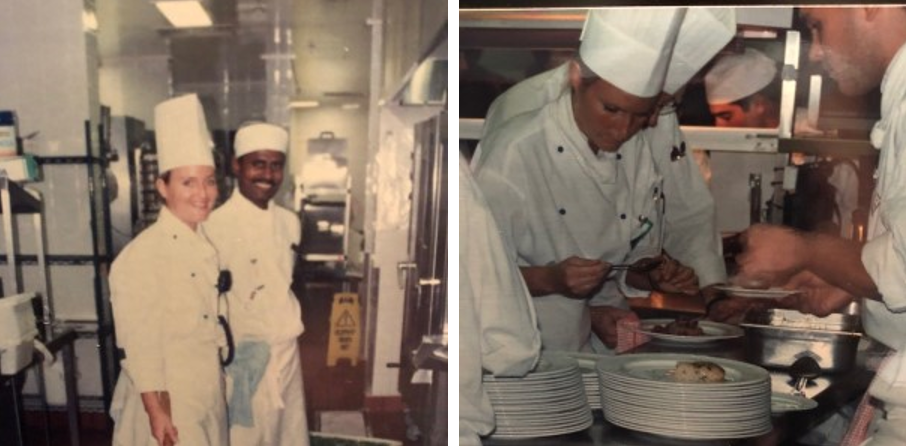 Pictured: Jutta during her days as a chef.
Jutta first dabbled in the world of educating in Far North Queensland.
"I was invited to casually teach chef apprentices in Cairns, which I thoroughly enjoyed. For the next five years, I decided to run my own café and catering business in Cairns, which I sold just prior to moving to Brisbane."
In her role, Jutta wears many hats to ensure the best service possible for our patients, customers and staff. She has been monumental in the development of internal education and making the working environment a safer and better place for staff.
"In my role, I develop and execute food service specific education for food services staff. This includes private and public kitchens, the call centre, Redland and Springfield staff. I am currently working on "IDDSI – texture modified Diets" and an in-house "Allergens" training module. I am also a big advocate for manual handling training and have held many face-to-face sessions for food services staff."
"Customer service training is also something that I am very passionate about, and it plays a huge role in food services. I have registered for the Speaking with Good Judgement coaching program and look forward enhancing my communication style. I am also currently part of the "Leadership round table" course which I am thoroughly enjoying."
"Since joining Mater Education and working alongside the Foodservices team, Jutta has made an incredible difference to our training and development program for staff", said Sally McCray, Director of Dietetics and Foodservices. "She has worked closely with our managers and supervisors to develop and implement best practice education programs focussing on the team's specific needs and current industry standards."
Jutta is a huge asset to the Mater Education team and the Dietetics and Foodservices Team. With her expertise and knowledge in the industry, Mater will continue to ensure best-practice food service and delivery.
Pictured: Jutta in her role now as Education Coordinator – Food Services .