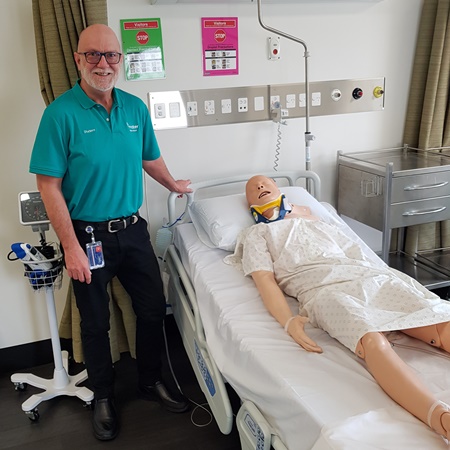 Mark has lived a life full of excitement, colour and experienced a soaring career. He decided to study Mater Education's Certificate III in Individual Support after some life-changing circumstances that made him realise what really is important to him.
"My sister passed away a few years ago at the age of 49, losing a long battle against brain cancer, breast cancer and Crohn's disease. She spent the last six months of her life in an aged care residence in Brisbane and became fully dependant on others. With Mum and Dad in Bundaberg and too frail to travel, I was by my sisters' side every day that I could be, juggling a busy, professional life."
"Whilst visiting my sister in aged care, I soon understood what a difference a good carer could make to the quality of life for those that rely upon them. I was drawn to the immense value and privilege of the role, sharing a very special part of the residents' journey. It's not easy to explain, but becoming an aged carer has almost felt like a calling!"
Mark's career path has seen him travel nationally and internationally in the banking, IT, hospitality and most recently, law industry. He gained a double degree in Arts and Law and a post-graduate law degree, and at the age of 41 was admitted as a Legal Practitioner. It was while working in law that Mark started looking after his sister in aged care.
"I stopped most of my travel, scaled back my responsibilities and became devoted to her care. It was during this time that my priorities changed and I learnt what was meaningful in life and more importantly, what wasn't."
"This year seemed the right time to change direction, again, and this time, to follow my heart. I'm still working part-time as a consultant, whilst making the transition to my new career in aged care."
He chose Mater Education after doing a lot of research online to find the best RTO from him, and is loving the experience.
"Living for many years in Bundaberg and Brisbane, the Mater hospital has been a well-known and trusted part of my community. I was impressed with the reputation, governance and professionalism of the organisation, and the quality of facilities that comes with having a campus in a hospital environment."
"Our class is a small, diverse and supportive group, the facilities are great, the program is really well-organised and most importantly, our Educator is personable, experienced and knowledgeable. Everyone is given the space and respect to learn at their own pace, and I am absolutely loving the whole experience! Every day I walk away from class with a smile, knowing I made the right decision to follow this path and to choose Mater Education."
"On my first day at orientation, I sat in the auditorium and thought to myself 'My goodness, Mark, what have you done – you're too old to be starting again!' My fears dissolved when I attended the first day of classes. Our Educator, Chris, shared some heart-warming anecdotes from his experiences in aged care – but the clincher was when he said that for the residents he worked with in aged care, he remembers almost all of them. I knew, then, that I was in the right place because for me, meaningful relationships are what life is all about."
If want to be someone who makes a difference to the lives of others, you can read more about our Certificate III in Individual Support course here.