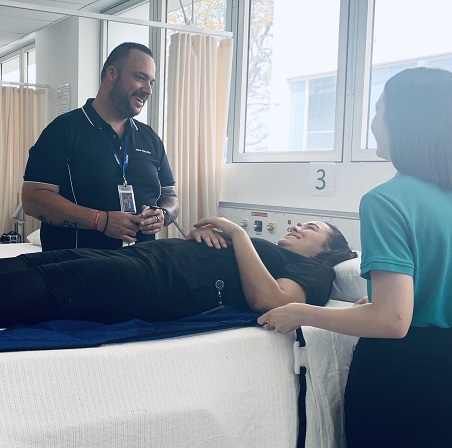 "Do something that you love. Not everyone is lucky enough to do something they love. I get to teach and inspire people every day to make a difference," Shaun Lacey.
Shaun Lacey was 16 years old when he found his passion in aged care. Accompanying his Grandma, Shaun volunteered at an aged care facility before being offered a full-time position at 17 and beginning his career.

"I used to visit an aged care facility with my grandmother and visit her friends on weekends. That's how my love and wanting to work in that area started," Shaun said.

Over the 12 years Shaun worked for the facility he completed his Certificate III in Aged Care and Diploma of Nursing, qualified as an Enrolled Nurse.

"During that time I met some wonderful people. I feel like each resident has had a profound effect on me. I loved getting to know each and every one of them. They all have their own story – I've heard stories from prisoners of war, from people who have cooked for royalty; the lives they have lived are phenomenal," Shaun said.

Shaun has one piece of advice from his Grandmother that he has always tried to pass onto his students starting out in their own career. "I remember my Grandmother saying to me 'just imagine it was me you are looking after' and my whole mindset changed. I try to remember that these people are someone's grandma or grandpa and you want them to have the same respect I would want my grandmother to have," Shaun reflects.

Throughout his career Shaun worked in different aged care facilities, before moving into education to train the next generation of carers. He is now a part of the team at Mater Education, facilitating the Certificate III course in Individual Support. Working with Mater was an easy decision for Shaun.

"Mater's values and patient centred care approach aligned with my own values. Working in an environment where you know everyone really does care and wants to deliver the best care possible is important to me."

"I love passing on the skills I have learnt over the years to students who are so eager and keen about the industry. Seeing them excited about wanting to work in aged care inspires me," Shaun said.

It's not always an easy job, "You have amazing days, sad days and frustrating days but at the end of the day if you still know why you are there — to make a difference to people's lives — then you have succeeded."

"One thing that I can't tell my students enough is that you've got to love working in aged care, you've got to be passionate about it. Just by walking into your workplace with a smile on your face, asking them how their day is and sitting down to have a chat; these may seem like small things to you but it makes a big difference to their day. And, if you love what you're doing, these things will come naturally and be genuine. If you love what you do, it shows," Shaun said.

During the 25 years Shaun has been working, he has seen the industry come along way. "Facilities these days are purpose built and there's a real focus on what is best for the resident; it makes a huge difference. Faculty have the right equipment to do the job effectively and they have on-going training. Over 25 years, the industry has come ahead in leaps and bounds," Shaun said.

By working with Mater, Shaun aims to prepare students to understand that while working in aged care is hard work it is also one of the most rewarding jobs.

"We teach students that working in aged care is all about providing exceptional care to people who rely on us. They want to feel they can trust us and that we will do everything we can to make their life better."

"Aged care has always been my passion, it has always been something I have loved and it always will be. I am so appreciative that Mater has given me the opportunity to keep working in the industry and teach something that I believe in" Shaun said.
Applications to study this new course or any of Mater Education's existing qualifications in January 2020 are now open.

Click here to learn more about all of Mater Education's exciting and dynamic qualifications, including CHC33015 Certificate III in Individual Support!