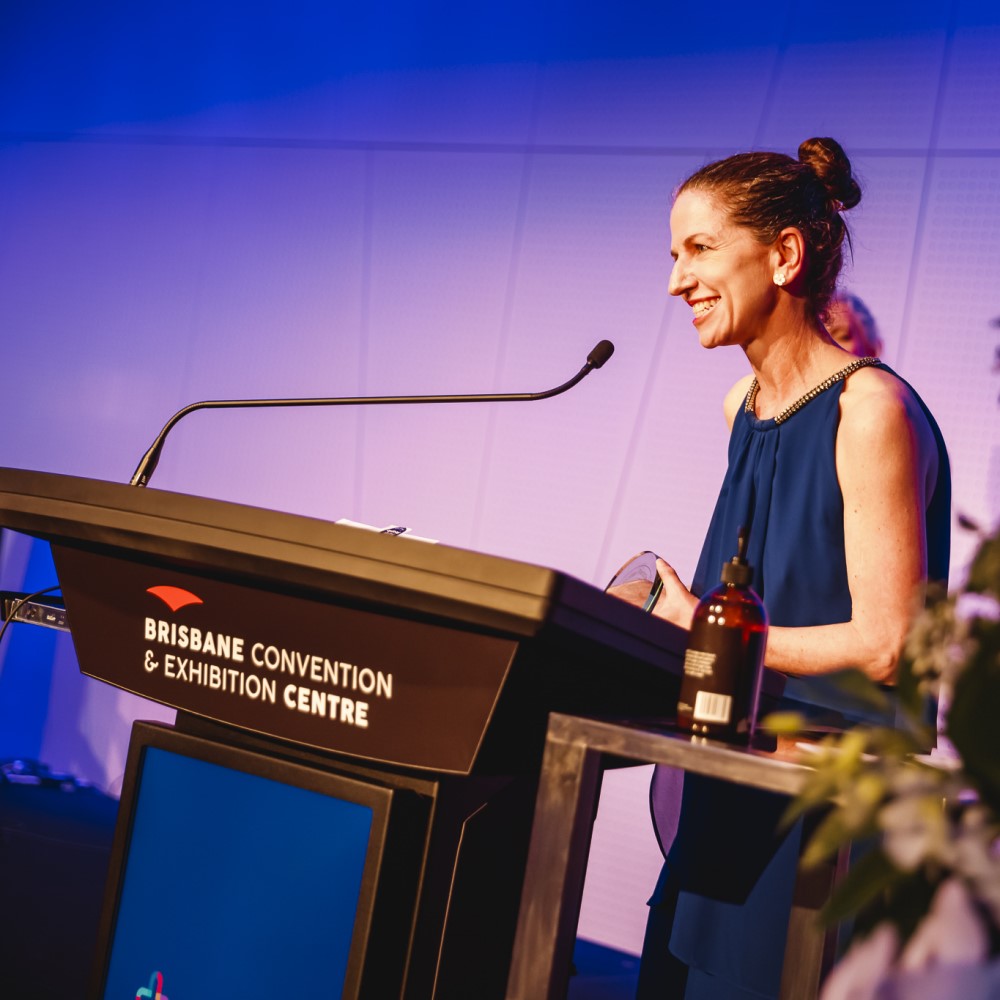 Congratulations to our Head of Learning and Development, Katherine Jackman (KJ), who won in the Mercy in Action Individual category of the Mater People Awards.
The award sought to recognise an individual for outstanding contribution in line with the Mater Mission, Values and Strategy.
Katherine was nominated for being an outstanding educator, epitomising the Mater Values in action by tirelessly delivering the best outcomes for our students, their peers, the organisation, and the community.
She is committed to quality education, fostering life-long learning to develop our students as the future healthcare workforce. Katherine's outstanding contributions include establishing the Enrolled Nurse sub-chapter of the Mater Nursing & Midwifery Alumni to provide professional and social development.
She worked with Mater Foundation to create a financial scholarship program for students, supporting people from Indigenous, refugee, and financial hardship backgrounds, and collaborated with Mater's IT department to secure second-hand laptops for disadvantaged students undertaking their studies.
In addition she connected with the Evidence in Practice Unit and peers to apply a quality assurance and evaluation framework to critically review conventional education theory in delivery of medications and intravenous therapy training and is exploring other research opportunities within Mater's Diploma of Nursing Program.
Katherine led Mater's training response to COVID-19 to rapidly upskill our healthcare workforce and developed COVID-safe operational plans for education activities whilst self-nominating to be part of the relief effort for Mercy Health Victoria. Katherine has also represented Mater on accreditation bodies and Catholic Health Australia education working groups.
She actively fund raises for Mater Foundation for the Noosa Tri Team Smile for Smiddy. For the last three years she has participated (swimming 1500m, cycling 40 km and running 10km) before pausing for 2020 due to COVID-19. KJ is super keen for 2021 to join the tri-movement again. KJ also mentors in a peer-to-peer wellbeing program for veterans and believes there's so many moments every day where an opportunity presents to improve our world and the joy we gain back when we seize these moments is immeasurable!
Katherine tied with Physiotherapy Team Leader Jenny Murphy for first place and was so honoured to receive the co-award next to such an amazing professional.
Congratulations to the outstanding other finalists for these awards including,
Tina Bruhl, Social Work
Nicholas (Niko) Eliopoulos, Hospital Steward
Frances Maguire Program Coordinator, Mothers', Babies' Women's Health Clinical Trials Unit