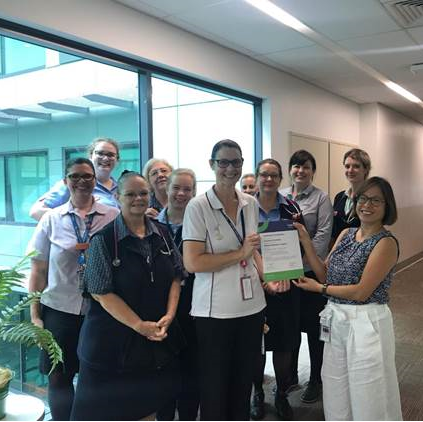 Blog written by Deb Shotten and Lauren Kent, Education Coordinators Mater Education.

I always say my mother is the reason I became a nurse. She first of all turned me off becoming a professional tennis player (she had more insight into my tennis ability then I did) and secondly discouraged me becoming a vet, however, she encouraged me to be a nurse as I could travel the world with my career and skills and I would be able to follow multiple career paths.

As we all know there are hundreds of nursing specialties with many in which you can earn a special certification or post graduate qualification to certify that you are an expert in that particular speciality. Nurses have the ability to one day work with general orthopaedic patients or the following day take care of a ventilated patient in ICU. We can choose a career path in Aged Care, Mental Health or Community Health just to name a few. And of course nurses have the ability to become the leaders for the next generation of healthcare professionals; from NUMs and MUMs to the Executive Directors or Health Consultants (again… to name a few). The career options really can be endless and limited only by what we want to achieve and our education. Whatever your interest in nursing, you can probably find a specialty that interests you.

In saying all of this, one day a nurse may realise that after they've moved along a specific career path, away from the acute clinical front line, that they'd like to return to providing patient care. The question gets asked "How do I get back into Acute Care? Can this actually be done and how?"

We were consistently approached by nurses and midwives who were looking to re-enter clinical work in the acute care setting, but could not secure a position due to recency of skills. As a result of this identified need, we are really proud to be able to offer the Nursing, Midwifery and Neonatal Refresher program for clinicians who are considering returning to the workforce and who wish to work in an acute care environment.

Participants will learn contemporary best-practice and establish their confidence while gaining practical experience in some of Mater's exceptional hospitals. The course is designed to build on previous nursing skills, knowledge and experience to prepare participants for a return to acute care work.

We spoke with Roseanne to understand what her experience taking part in the Midwifery Refresher Course was like.

Where and when did you start your career as a midwife?
After 14 years of surgical nursing at PAH, I applied to do my Post Grad in Midwifery. I chose ACU because I heard that one of the placement hospitals was Mater Mothers'. I had all my babies at the Mater and completed an advanced lactation course at the Mater where my passion for midwifery really blossomed. I graduated in 2006, completed a rotational program, and then went travelling around Australia.

In a nutshell how and where did you practice midwifery?
While travelling Australia I practiced Midwifery in Darwin and Adelaide. I took a position with the Royal District Nursing Service as a Community Midwife providing postnatal home visits for mothers that fell out of the hospital catchment area and babies with post-surgical complications. I really enjoyed supporting mothers in the early days and providing breastfeeding support. I later became a Lactation Consultant.

Why did you do the Midwife Refresher Program?
When I relocated back to Brisbane from Adelaide, I wanted to refresh and update my practice so that I could work on the wards again. I was attracted to coming to the Mater as I had such fond memories of the place and was still in contact with some of my other midwifery graduates that still worked at Mater Mothers'.

What feelings did you experience undergoing the program?
I was very nervous returning to the clinical setting and felt overwhelmed at times returning to a large hospital. There is a cost to doing the program, but I believed that a structured and supported program was the only way I could make a way back to the wards.

What was your first shift back like?
It was comforting to see so many familiar faces, nothing had really changed. The ward layout was similar and there were more clinical facilitators than I remembered. It was lovely being warmly welcomed. I didn't feel alone as there were other Refresher program participants to support me and give reassurance. It was great to be supernumerary and absorb the environment again.

What advice would you give to a potential refresher thinking of doing the program?
Be truly committed; it does take time, energy and some financial commitment. Have good supports around you through the journey. It will be overwhelming but you can do it if your passion is still to be with patients and their families. Accept that returning to being a novice can be empowering as you have a greater appreciation of the career you once chose. Find mentors and good role models whose practice and clinical skills you aspire to.

Roseanne finished her Midwifery Refresher program in July 2019 and has successfully gained employment at the Mater Mother's Hospital.

If you want to learn more about Mater Education's Refresher programs please see our website or contact us here.


---
About the Authors
Lauren Kent and Deb Shotten are Education Coordinators with Mater Education and experienced Registered Nurse and Midwife respectively. Lauren and Deb oversee Mater Education's Refresher programs.