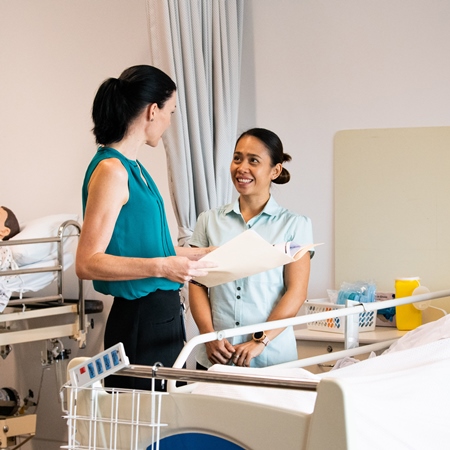 Mater Education's Diploma of Nursing Townsville cohort are undertaking placement across a number of rural hospitals, aged care facilities and clinical units. The placement not only benefits the students by allowing them to apply their learned skills and knowledge to the real world, but also supports the Queensland rural healthcare community.
Workplace experience is an incredibly valuable part of Mater Education's Diploma of Nursing program and takes place following the theory and simulation units each semester. Students get to experience nursing responsibilities across a range of specialities including acute surgical, aged care, rehabilitation and maternity.
Sarah Hughes, Lead Educator of the Townsville cohort, has worked with the students to arrange placement across organisations such as Townsville University Hospital, Parklands Residential Aged Care Facility, Ingham Hospital, Eventide Aged Care Facility Charters Towers, Mater Private Hospital and Loreto Home for the Aged.
"We pride ourselves in giving students the opportunity to experience hands-on, real life insights into nursing. This placement is extremely beneficial for their learning journey and Mater is fortunate to have a remarkable footprint within the greater healthcare community. We're proud to partner with so many rural healthcare providers, to ensure our students are getting relevant experience while still supporting the local organisations here in North Queensland."
Mater Education's Diploma of Nursing program will equip you with the experience, knowledge and skills to make a difference to your local community through nursing. Find out more here.