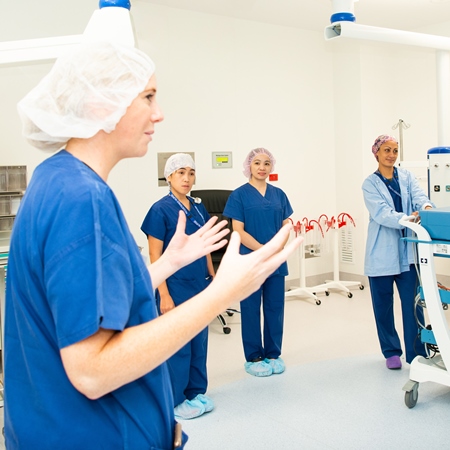 Mater Education put Mater Private Hospital Townsville's new Mercy Centre through its paces, using simulation in preparation for its grand opening on Thursday 30 July.
The event was run using OptiSim, a unique service offered by Mater Education, which uses a tailored simulation methodology to emulate real-world scenarios. Testing a facility prior to its opening ensures operational readiness by mitigating risk and enhancing the experience of both patients and staff.
Mater Education Head of Partnerships, Programs and Innovation, Stephanie Barwick, is proud to lead this service.
"When we're dealing with life or death as clinicians, it's important to test environments, systems and processes so that staff feel well prepared and know that the workplace is ready for any situation," Stephanie said.
The Mater Education OptiSim team and Mater Private Hospital Townsville teams came together to run the new Mercy Centre as a simulated facility for a full three days. The process testing included operating lists, patient admissions and transfers, along with a number of emergency code situations simulated in a proactive approach for quality and safety.
Simulations like these have been running at Mater's South Brisbane campus for the past six years and extending the services to North Queensland ensures patients are provided with a seamless healthcare experience across Mater's facilities.
Talissha Wagner, Organisational Development Manager, Mater Private Hospital Townsville was pleased with the outcomes from the three day event.
"Thank you so much to the Mater Education OptiSim team and the Mater Private Hospital teams for all your hard work, collaboration and commitment to ensuring our new Mercy Centre is operationally ready for our patients and staff! An excellent initiative and great method to test processes and procedures."
OptiSim can be used in a variety of situations to improve safety, processes and operations. Click here to find how OptiSim could help your organisation.