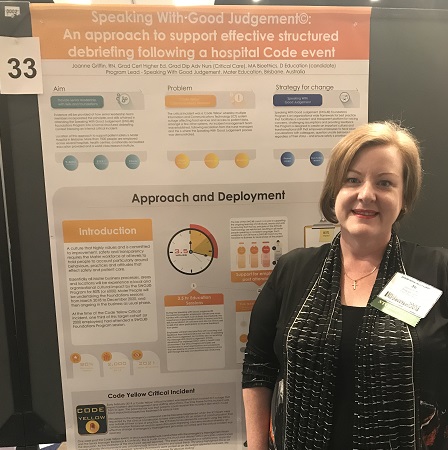 Mater Education's very own Speaking With Good Judgement © program was invited to speak at the Institute for Healthcare Improvement (IHI) Patient Safety Congress.
This annual event brings like-minded individuals together who are passionate about ensuring safe healthcare equitability across the globe. It is the largest of its kind internationally and more than 1300 participants attended the Congress in Houston, Texas held recently in May.

Speaking With Good Judgement © is a communication framework, driven by Mater Education* and provides the entire Mater organisation with a consistent and transparent approach for voicing concerns and seeking answers to 'what's right' rather than 'who's right'.

Jo Griffin, Program Lead for Speaking With Good Judgement ©, was the only Australian invited to present a StoryBoard feature. Jo spoke to health professionals from across the globe about Speaking With Good Judgement's © goal of transforming culture through conversations and how Mater is beginning to see this evident within the first 12 months of program implementation. Jo found that there was significant interest in an Australian perspective for the promotion of a culture of safety for patients, families and employees.

"Many commented on how visionary it was for such a large organisation to implement a cultural change program through education of all employees, not just those that provide direct patient care. "

Through the accountability framework that Speaking With Good Judgement provides©, Mater is cultivating a culture where one set of behaviour expectations applies to all employees and these embrace the mission, vision and values of the organisation.

If you'd like to learn more about Speaking With Good Judgement © and how you can implement this in your workplace, speak with our friendly team today.

* The framework of the Speaking With Good Judgement © program is based on the highly regarded debriefing methodology developed by the, internationally renowned Center for Medical Simulation (CMS), Boston.