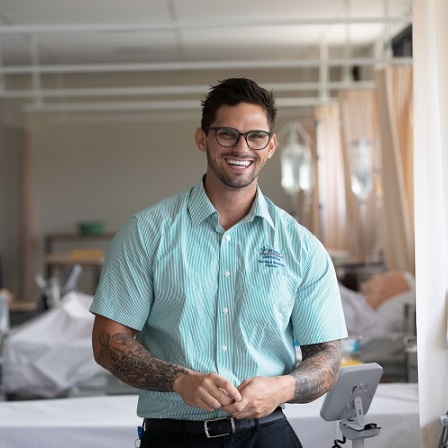 With so many options available, and so many factors that can influence your decision, choosing where to study can be overwhelming. If you are currently working, have a family or a range of personal commitments, finding a facility that allows for flexibility is key.
For recent Diploma of Nursing graduate and father, David, finding a supportive learning environment was critical in starting out his healthcare career.

David decided to study nursing as he wanted to pursue a career where he could give back to the community. He had narrowed down a handful of places to study, but decided on Mater Education, after glowing recommendations from a friend who had recently graduated from the program.

"One thing she said that really stood out more than anything else was the time you get with the educators and the time you get in the simulation labs," said David.

Fortunately his experience was equally as hands-on, supportive and flexible as she had described.

"I reached out to [the educators] as I had issues organising placement around personal time with my family and they went above and beyond to help me."

Having graduated with his Diploma of Nursing in July, David reflected that his clinical placement was a highlight of his studies.

"Being able to interact with patients and seeing everything you've practiced go towards helping someone is so rewarding."

"You also get the opportunity to see the clinical and medical staff in action, and get a real insight into a career in nursing."

If you'd also like to explore a career in nursing, get in touch.