When Mater Education graduate Zoe Little was diagnosed with severe endometriosis, she was inspired by the team who cared for her to become an Enrolled Nurse (EN).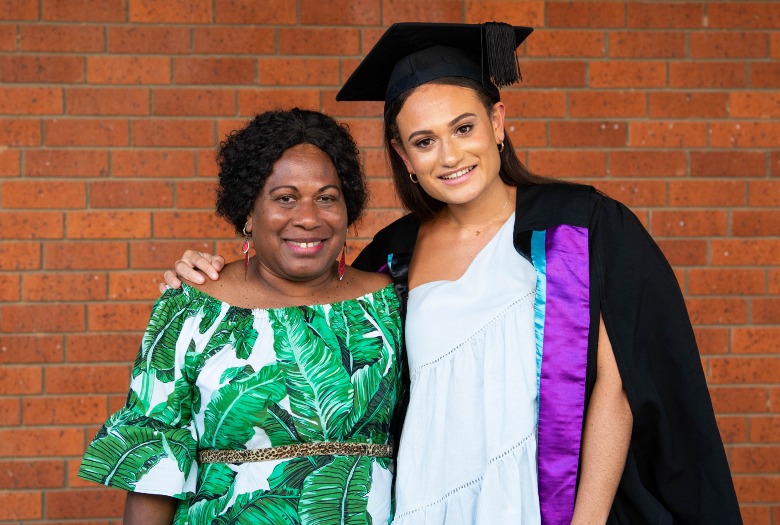 Zoe Little, originally from Papua New Guinea, recently graduated with a Diploma of Nursing (DoN) through Mater Education after completing the 18-month course in facilities across Townsville and Brisbane.
Diagnosed with endometriosis in 2020, Ms Little said she had spent years dealing with "painful disease" since she was a teenager.
"No one could tell me what was going on for so long," Ms Little said.
"After surgery to remove the endometriosis, I had a real appreciation for the nurses who became great support people for me during what was a vulnerable time."
After completing the Diploma in December, Ms Little gained direct entry to study a Bachelor of Nursing at the Australian Catholic University (ACU) through Mater's agreement with the institution.
"I wanted to extend on my knowledge as an EN to become a Registered Nurse (RN) with ACU," Ms Little, from Nundah on Brisbane's northside, said.
Ms Little said the Diploma "set her up for success" at university, and this year started working on the Orthopaedic ward at Mater Hospital Brisbane in South Brisbane.
"I was able to keep working as an EN while studying, and I absolutely loved that," she said.
"It's great because I learn something in class and can see it happen on the ward a few days later.
"Every day is different. Having that hands-on experience with patients who have been through hip and knee replacements is rewarding."
Ms Little said her dedication to her studies and passion for healthcare runs in her family.
"My mum is my biggest inspiration," she said.
"She's worked in aged care for about 20 years.
"It takes a lot to be a healthcare worker and you sacrifice a lot with the shift work to show up for people every day."
Ms Little hopes to continue her career with Mater after graduating as a RN.
"I've been with Mater for a while as I started as an administration officer, worked as an Assistant in Nursing (AIN) and EN. I'd love to be an RN with Mater," she said.
Ms Little said the Mater Education DoN was the perfect" steppingstone" for her pathway into university.
"Becoming an EN and getting that experience is incredibly valuable when becoming an RN," she said.
Mater Education Townsville Team Lead Tara Walton said the agreement with ACU gives Mater's DoN graduates direct entry into the university through a Bachelor of Nursing degree.
"This agreement allows for graduates to receive 12 months off their three-year course at ACU. They are credited the first years' worth of subjects of their Bachelor due to studying with Mater," Ms Walton said.
"This means for our Diploma students, upon completion of the 18-month course, they can go and work as an EN, gaining valuable experience. Should they wish, they can go straight into a second year of their Bachelor of Nursing, taking with them the knowledge they have gained at Mater.
Mater Education offers placements at Mater facilities including Bundaberg, Rockhampton, Mackay, Brisbane and Townsville.
Apply for the Diploma of Nursing today and start studying in July in Brisbane or Townsville: mater.li/ApplyForDoN