The number of applications to train as a nurse with Mater Education has surged by more than 330% since course fees were removed, thanks to the Queensland Government's Fee-Free TAFE initiative.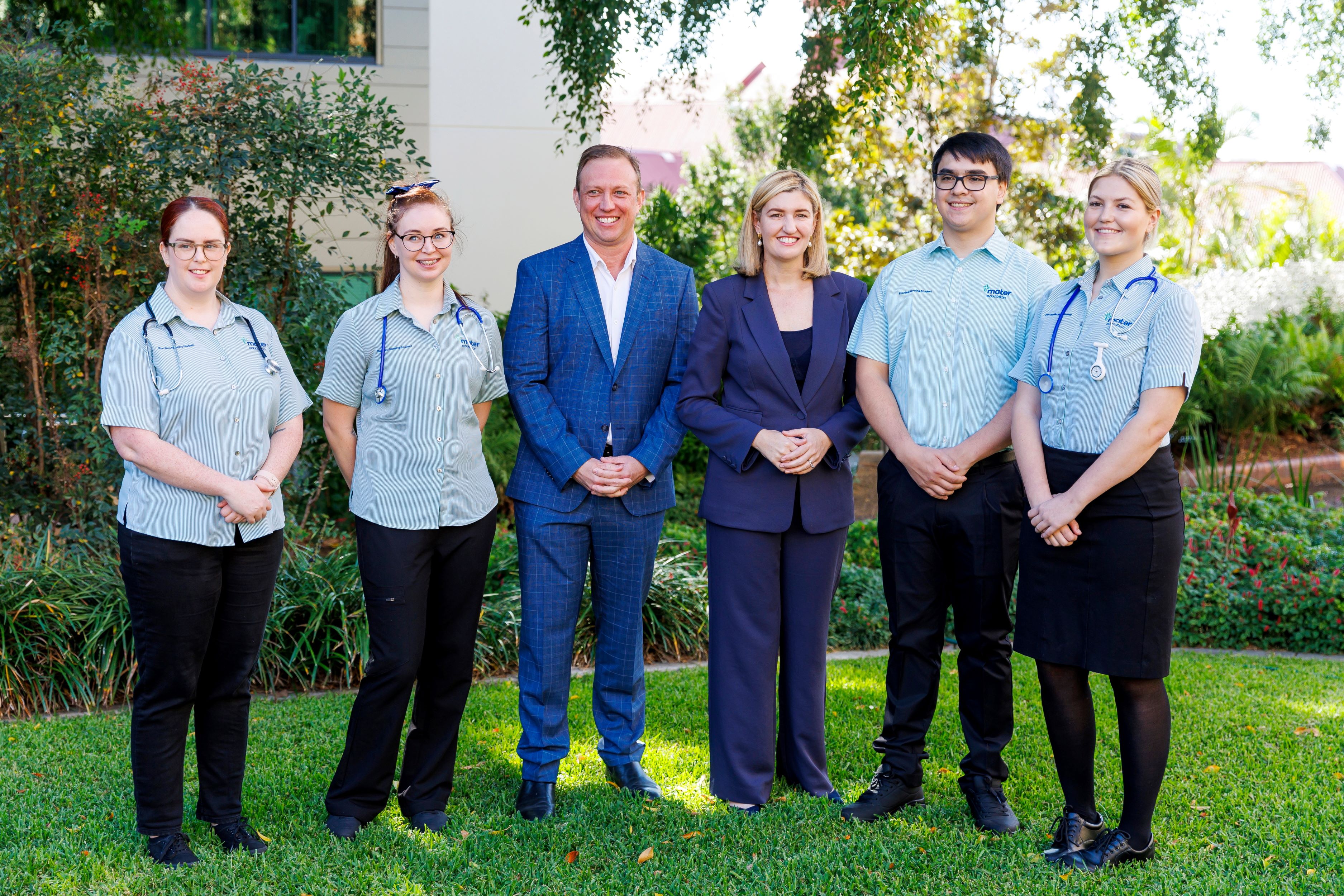 Mater Education has received almost 400 applications to join its next Diploma of Nursing course in October, up from 91 applications at the same time last year.
This year – for the first time – the October diploma course will be taught at both Mater South Brisbane and at the new Mater Health Hub, Springfield, opening up new work opportunities for school leavers and career-switchers across the Ipswich and Springfield regions.
Mater Group Chief Executive Dr Peter Steer said the surge of interest in nurse training was great news for hospitals and healthcare service providers across Queensland – and their patients.
"The Queensland Government's decision to include Mater Education in its fee-free initiative has had an immediate and impressive impact on our nurse training applications," Dr Steer said.
"There's an urgent need to grow Queensland's nursing workforce and fee-free training is clearly a great incentive to those considering a health career.
"Nursing is a wonderful career choice. Caring for others is so rewarding and nurses' career paths and opportunities have never been greater than today."
Students who joined Mater Education's Diploma of Nursing course to become Enrolled Nurses in just 18 months have enjoyed fee-free learning since 1 July 2023.
Minister for Health, Mental Health, and Ambulance Services Shannon Fentiman visited Mater's South Brisbane health campus today to meet Diploma of Nursing students and their tutors.
"We know we're experiencing a global health workforce shortage that is putting pressure on our health system," Ms Fentiman said.
"The Palaszczuk Government is focused on boosting our frontline health workforce and that's why we ensured Mater Education became part of the Fee-Free TAFE initiative.
"It's great to know that so many young people and career-changers are seizing this opportunity.
"Our health sector needs talented and compassionate Queenslanders and there has never been a better time to start a career in nursing.
"Applications are open for another two weeks, so head to the website and apply today."
Mater Education Diploma of Nursing Program Coordinator Lauren Andrew said Mater provided its students with a unique training experience.
"Mater Education is the largest non-government nurse training organisation in Queensland and our connection to Mater hospitals is highly valuable for our students," Ms Andrew said.
"We connect the hospital and classroom environments to ensure our students learn through immersive, real-world experience.
"Our accelerated 18-month Diploma of Nursing qualification allows students to learn and earn quickly."
The Mater Education Diploma of Nursing program is being launched in Springfield to help meet the region's demand for nurses, which is set to soar with the Stage 2 expansion of Mater Private Hospital Springfield.
The new hospital will employ more than 1,000 people, creating exciting new opportunities for students and those seeking a career change.
Applicants for the Fee-Free TAFE initiative must live in Queensland and be Australian citizens or permanent residents to be eligible for a fee-free Diploma of Nursing.
To find out more, contact Mater Education student services at 1300 070 350 or go to mater.li/ApplyForDoN
This program is proudly supported and funded by the Queensland Government.
Conditions and criteria apply | Springfield location subject to ANMAC approval | RTO 5210 | HLT54121