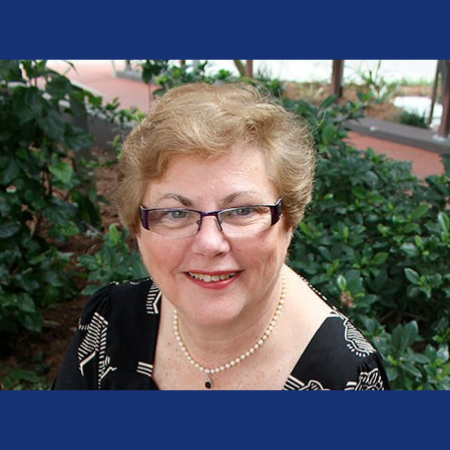 Joan Bremner is an incredibly humble and selfless donor, who is the founder of the Just Joan bursary at Mater Education. Her ties to Mater run deep through her long-standing career in healthcare, community and pastoral care, and she now generously gives back to students.
Through the Just Joan bursary, students who are facing financial strain can access necessary textbooks to complete their studies. The grant, which was originally introduced to assist mature-age students, has since evolved to fund the development of a textbook library, providing more students with the required resources for their studies.
Joan, who has recently celebrated turning 70, is a mother of three children, and widow to her late husband John. Throughout her life, Joan was a mature-age student twice and understands the motivations and difficulties of undertaking study later in life.
Joan started her career at Mater, where she studied and lived on-site at the hospital as a student midwife. It was during this time that Joan's relationship blossomed with John Bremner, and they married and started a family.
In 1988, Joan undertook her ecumenical hospital chaplaincy studies at the Holy Spirit Hospital, which was the start of her journey into pastoral care for 20 years. It was while she was working in pastoral care that John died of cancer, in 2002, at Mater.
"Unfortunately, in life, you have no control over certain circumstances. John's death was truly devastating, and because I worked in pastoral care, and the children would eventually leave home, I needed to find ways for me to move on with my life, alone."
Inspired by her children, Joan started her second wave of being a mature-age student, where she enrolled with Griffith University, studying a Professional Ethics and Governance Graduate Certificate in 2003, a year after John had died.
"Going back to study made me realise that it is a way to progress on with life, pick up the pieces, and restart. Completing the course gave me back so much confidence and helped with starting the next phase of my life."
Study and books have always been important in Joan's family, so she is pleased that the bursary helps students to benefit from them, as she and all her family have.
Now retired, Joan continues to fundraise for the Just Joan bursary, where she not only donates every birthday, but asks others to donate as her birthday gift.
She shared a few personal reasons behind calling the bursary 'Just Joan' as opposed to the 'Joan Bremner Bursary'.
"When John died, I realised my life and the decisions I made were really just up to me. So I was now just Joan. Additionally, many people have helped me and continue to help me so I felt the need to pay this back and be 'just' or 'fair'."
Joan's generosity is deeply valued by Mater Education and our students, as it provides them with the support and confidence to pursue a new beginning.