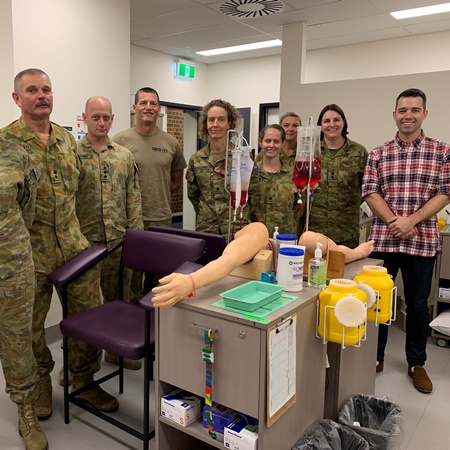 Recently the Mater Education team delivered a venepuncture training and skin puncture procedure program with a small group from the Australia Defence Force (ADF) ahead of their deployment to Papua New Guinea.
During their deployment the group will utilise their venepuncture training to collect samples from up to 2000 ADF staff and families as part of a research program, detecting malaria and infectious diseases.
Mater educator Jo-Anne Lobb worked with the ADF's Nursing Officer and Clinical Research Coordinator to determine their training needs and specifically developed a simulation delivery plan that matched the anticipated experiences in Papua New Guinea.
Following the session, Jo-Anne reflected "the group used training boards and manikin arms for practice. During their training I also offered suggestions to what additional resources would be useful in assisting with blood collection.
"I also encouraged them to include blood transfer devices, trays and disposable safety glasses as part of the equipment they require during deployment. We also discussed safely disposing and transferring sharps between sample collections," Jo-Anne said.
All feedback from the session was positive with the group most appreciative of the opportunity to do as much simulation as possible to increase their confidence.

"By the end of the session, they were all well-equipped and knowledgeable in venepuncture and skin puncture," Jo-Anne said.