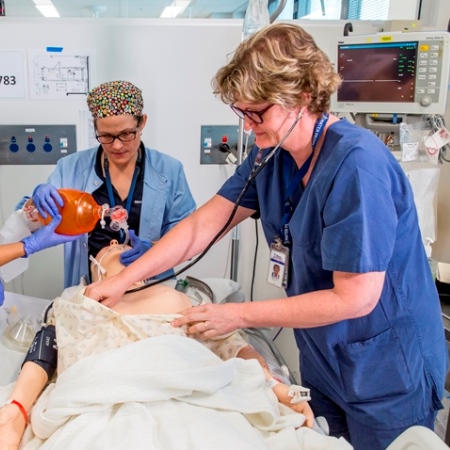 Last month, Mater Education's Executive Director Donna Bonney, and Head of Partnerships, Programs and Innovation Stephanie Barwick were contributors to the Center for Medical Simulation's Webinar - Be the hero of your C-Suite: Making Simulation Essential to the Success of the Organization.
The specialists on the panel addressed the difficulty of 'buy-in' to simulation programs due to the growing competition for resources when considering other healthcare education, quality, and safety efforts.
Donna and Stephanie contributed their expertise and advice on setting goals and identifying opportunities to solve real clinical problems using simulation. Listeners were also provided with advice on ways to get support for simulation-based system testing or training for quality, safety or education initiatives.
Mater Education has a long standing partnership with the Center for Medical Simulation, being the only Australian affiliate with the US based centre. The partnership provides Mater Education with an exclusive level of access to resources, skills, advice and experience from a team of international leaders in the field of simulation.
If you missed out, you can listen to a live recording of the Webinar here.