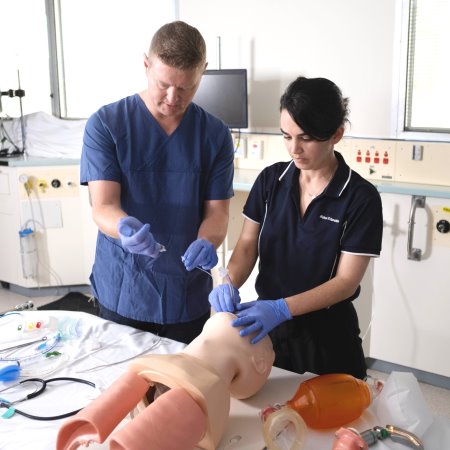 The evolution of Mater
Since 1906, Mater has established itself as a core provider of exceptional health care. Over this time, Mater has maintained a proud history of training clinicians and providing contemporary inter-professional healthcare education and training.
In 1998, Mater Education was established as a nationally accredited, independent, hospital-based Registered Training Organisation (RTO)—the only one of its kind in Queensland. Whether you want to enter the healthcare workforce, build on your existing skillset as a trained healthcare professional or lead professional development for your workforce, you can do so through Mater Education's world-class programs, facilities and faculty.
How we support those who want a career in healthcare
Our popular Vocational Education and Training programs provide the skills, knowledge and qualifications to kick-start a career in healthcare.
Our unique Diploma of Nursing program, offered at both our South Brisbane and Townsville campus, is designed for people who want to start their nursing career, and become qualified as an Enrolled Nurse.
We also offer a range of practical Certificate III programs, providing students with hands-on, hospital-based experience to transition into the healthcare workforce.
How we support those who want to upskill in healthcare
From foundational courses such as First Aid for children and adults, through to specialised professional development courses for qualified experts, we provide healthcare education from the workplace and the home.
Across all our course options, participants learn in our world-class simulation labs, across our exceptional hospitals and with our passionate and highly trained staff.
How we improve the workplace through simulation
Mater Education has exclusively partnered with the internationally renowned Center for Medical Simulation (CMS) in Boston, USA. As the only Affiliate Partner in Australia and one of only three in the world, Mater Education and its alumni have an exclusive level of access to the resources, skills, advice and experience of a team who are international leaders in the field of clinical simulation.
It is through this partnership that Mater Education can deliver, develop, implement and evaluate simulation programs to help organisations improve their knowledge, skills and teamwork to establish a confident and competent health workforce.
Mater Education is committed to building an exceptional healthcare workforce through excellence and expertise in education. Best-practice health and community care is at the heart of everything we do, and it's through our hands-on and immersive education that we deliver real-world impacts in healthcare.


Find out more about Mater Education and our South Brisbane campus here.