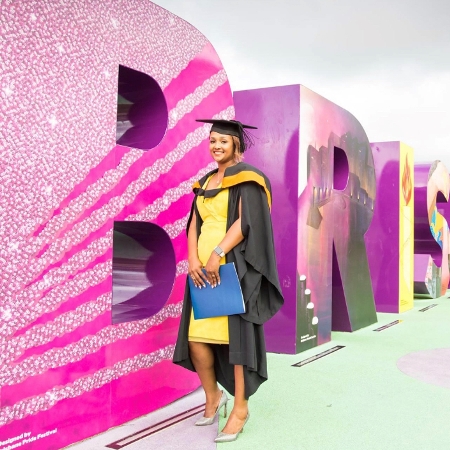 Sofia is a nurse, a mother, and a refugee. She completed Mater Education's Diploma of Nursing on a refugee scholarship after travelling from Sudan.
She's come a long way since her move to Australia, having now completed her degree in nursing and is working as a registered nurse at Mater Private Hospital Brisbane.
Sofia chose to study nursing having grown up in a big family.
"I am very passionate about helping people and taking care of my family so I wanted a career that reflected this."
After migrating Sudan to Australia in 2012, Sofia enrolled in Mater Education's Diploma of Nursing program after a friend recommended it.
"I was only six months in this country but I was itching for an education. Even though the scholarship was offered, I was praying that I would be admitted, because I just wanted to study at Mater Education. It aligns with my values."
Sofia encountered significant personal challenges during her studies, which she worked through with the Mater Education team. Despite the set-backs, Sofia successfully graduated with a well-earned Diploma of Nursing qualification.
"It was really scary, but Mater Education provided me with incredible support. They understand people with different backgrounds, upbringings and they acknowledge people's differences. I was given a personal mentor for support, but I also felt complete support from my educators, right up to management. Everyone knew our names, our personalities and our strengths and weaknesses."
"We were very encouraged, with a 'you can do it' attitude. It wasn't a case of 'pass' or 'fail' to the educators - it was about the passion we put in to study and to look after people. It's an amazing environment to study in."
Now a registered nurse at Mater Private Hospital Brisbane, Sofia is putting her learnings to practice, and loving it.
"I found the course and experience really amazing. I am very happy and proud to be called a Mater Education student."