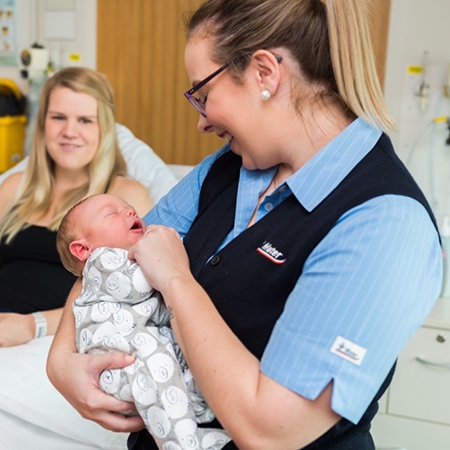 Following the huge demand for Queensland's first Nursing Refresher program, Mater Education is excited to offer two more refresher programs – for registered midwives and neonatal nurses wishing to reignite their careers.
The courses are designed for experienced clinicians who have taken an extended break, or are working in alternate areas of practice and wish to refresh their knowledge and skills in an acute nursing, maternity or neonatal care setting.


Delivered in association with the Australian College of Midwives (ACM), the program combines theoretical online modules with practical learning and clinical placement at Mater Mothers' Hospital Brisbane.
Over 12 weeks, participants will refresh their skills in antenatal, labour and/or postnatal areas (pending previous experience), and perform a variety of foundational midwifery skills – including medication administration – with the support of preceptors, clinical support educators and midwife educators.
The 2019 program will commence in April (running until June) with an additional offering later in the year from September until December.
Learn more about the Midwifery Refresher program


Neonatal Refresher
Delivered wholly by Mater Education, the Neonatal Refresher provides an opportunity for Registered Nurses, Midwives and Enrolled Nurses who have previous experience within a Special Care Nursery (SCN) and who are out-of-practice and wish to refresh their knowledge and skills in an acute critical and special care setting for neonates. The program will provide participants with the opportunity to refresh their understanding of family-centred and developmental care, and practice neonatal vascular access for pain and analgesia.
Commencing in April or November this year, the program will take ten weeks to complete.
Learn more about the Neonatal Refresher program


For more information or to speak to Mater Education's CPD team directly, phone 3163 1500.
Please note: participants must still meet the Nursing and Midwifery Board of Australia mandatory registration standards of Recency of Practice and Continuing Professional Development.