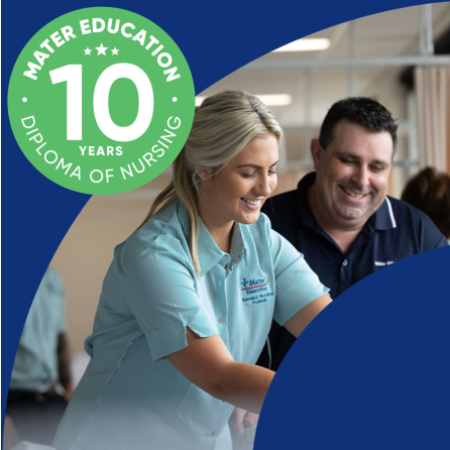 2020 marks an iconic year for Mater Education, celebrating 10 years of our successful Diploma of Nursing program.
The Diploma of Nursing program has grown from strength-to-strength, with 2019 delivering over 180 graduates. In addition, the scope of the Diploma of Nursing program continues to grow, having recently expanded into North Queensland, with the first Townsville cohort starting in January 2020. Mater Education is now the largest non-government education provider of Enrolled Nurse graduates in Australia.
What separates Mater Education's Diploma of Nursing from the rest is the unique opportunity for students to study onsite at Mater, and to learn in a practical, supportive and immersive environment, right from day one. By leveraging off the network of Mater hospitals, students are exposed to a real, hands-on learning experience; and students can be working as an Enrolled Nurse in just 18 months. Mater Education prides itself in the educators that deliver the course to ensure that students are supported throughout their journey, to provide them with the skills and confidence as they begin their healthcare career.
The encouragement of educators combined with a high quality, practical learning experience is reflected in the satisfaction rates of students. In the 2018 Australian Vocational Education and Training Statistics Report, Mater Education's Diploma of Nursing program graduates reported a 91.6% satisfaction rate with the overall quality of their training; 93% would recommend the program and 90% would recommend Mater Education as their chosen Registered Training Organisation.
Mater Education CEO, Donna Bonney, started her career in nursing and holds the profession and course close to her heart. "As we celebrate 10 years of the Diploma of Nursing, I want to recognise all students, old and new, who have been on this journey with us. We strive to provide a course that's not only relevant to the changing healthcare needs of Australian's, but also to be exceptional in the way we deliver it. We are so proud to have played, and continue to play, such an instrumental part in strengthening the nursing workforce."
Learn from the team who have been supporting nursing dreams for 10 years. Click here to find out more about our Diploma of Nursing.