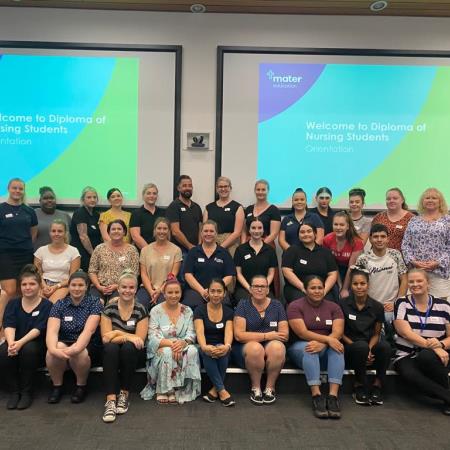 It's an exciting week for Mater Education, with our first cohort commencing at our new Townsville campus!
Almost 30 students, including three Indigenous Scholarship students, are enrolled in the Diploma of Nursing program, embarking on an 18 month journey to become an Enrolled Nurse.
The new offering is delivered onsite at Mater Private Hospital Townsville's Pimlico, and will provide local students a rare opportunity to gain contemporary, clinical knowledge in a real hospital environment.
Sarah Hughes, Mater Education Lead Educator—Townsville said she was excited to welcome such a diverse student cohort.
"We have a great mix of both school leavers and mature-aged students, many of whom have had prior experience in care and community services."
"We are focussed on the quality of our graduates, providing the best curriculum and clinical learning experiences available and providing an unparalleled level of support."
Mater Education's popular Diploma of Nursing program has been available to students in South East Queensland since 2010. The practical, hospital-based qualification is now available to North Queensland students, with two full time intakes per year commencing in January and July.