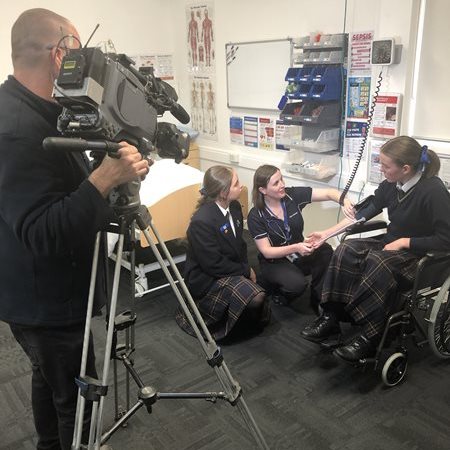 Mater Education is excited to deliver school-based vocational education and training to students at Fairholme College Toowoomba, thanks to their newly built Health Hub.
As Queensland's only accredited, hospital-based, independent Registered Training Organisation, Mater Education is proud to offer programs for senior students interested in a career in healthcare.
Mater Education Manager Vocational Education and Training Andrew Dutton said the dedicated simulation lab would allow Fairholme students to be immersed in a health care environment.
"Those students who are maybe thinking about medical or nursing careers can get a sense of whether that's the right career for them in their teenage years," Andrew said.
The program is delivered to senior students across South East Queensland, with campuses at South Brisbane, Springfield and Mitchelton, and now at Fairholme's new on-site facility.
Students develop an understanding of medical terminology, anatomy, communication and team work, and establish a solid foundation on which to build their healthcare career after Year 12.
"As well as learning and practicing in a simulated environment, students will gain first-hand experience in a real hospital setting, working alongside healthcare professionals," he said.
The program provides students with a Certificate II in Health Support Services, and the option to obtain a Certificate III in Health Services Assistance or Certificate III in Allied Health Assistance via an extended gap program.
Learn more about Mater Education's school-based vocational programs here.