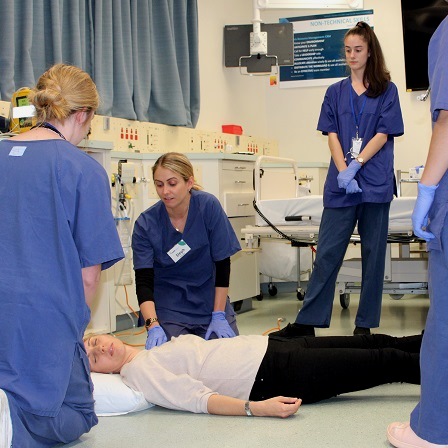 Blog written by Stephanie Barwick, Head of Partnerships, Programs and Innovation, Mater Education.
Every year when I receive my AHPRA registration reminder, I reflect over the previous 12 months to review the professional development I have undertaken to support my knowledge and skill development for registration as a Nurse and Midwife. The interesting thing about this is that my main role is now in health professional education and yet there is nothing that I am required to do to ensure I have 'educational competence' to develop the knowledge and skills of the people I educate.
How many of us fell into an education role because we were a good clinician? From my inquiries, the majority! Being a good clinician doesn't necessarily translate to being a good educator. Being able to perform a clinical skill is very different to patiently guiding and helping others to develop in a structured, engaging and meaningful way. We know that education plays an inextricable role in the development of the health workforce and this role becomes even more vital with the challenges healthcare faces in the 21st century. Globalisation and technology have resulted in rapidly changing needs of our communities and our patients, with healthcare becoming more complex and more expensive (Frenk, 2010). The success of how we respond and adapt to these changes is dependent on the skills of the healthcare workforce, as they are increasingly being asked to cope with new medical innovations, increased demands along with increasing expectations from a population who are more engaged in their own healthcare than ever before (Watson & Jolly, 2013).

Education will help to enable a workforce that can cope with this new frontier, not only to ensure clinical competence and being able to effectively communicate across professional boundaries, but also to be agile and resilient in a changing health environment. Educators are leaders, they have significant influence. Yet most still focus their development on their clinical expertise and not their educational and leadership acumen. To bridge that gap between being a good clinician, to becoming a great educator requires expertise in reflective practice to first and foremost ensure their own resilience, agility and leadership capabilities, so they are best positioned to support others do the same.

In recognition of this, in 2017 I packed my bags for Boston and undertook a five month Fellowship at the Center for Medical Simulation focussing on my professional development as an educator. From this experience I learnt from and alongside colleagues from across the globe. Apart from enhancing and developing new skill sets and challenging me to think differently, this invaluable experience also helped me build a network of like-minded people who inspire and motivate me to continually grow and develop as a person and an educator.


Engaging in CPD as an educator sends many messages to those around us; role modelling life-long learning and demonstrating vulnerability in learning new skills. I truly believe that no-one 'becomes' a great educator; it takes commitment, humility and passion. The great educators who inspire me are the ones who I see that continue to have a thirst and curiosity for learning and spend time investing in their own development. As they are evolving, they are inspiring others to come on this life-long journey of learning which I believe defines a great educator.

If you're feeling inspired and want to ignite your educational passion, we can help! Mater Education is hosting a symposium for healthcare educators to help you be more influential within your role and organisation. Click here to find out more.


---
About the author
As a registered nurse and midwife, Stephanie loves combining her passion for simulation with her critical care nursing experience. She has successfully implemented a number of organisational-wide in-situ simulation initiatives, identifying significant threats to patient safety and experience.


---
References
Frenk, J., Chen, L., Bhutta, Z. A., Cohen, J., Crisp, N., Evans, T., & Kistnasamy, B. (2010). Health professionals for a new century: transforming education to strengthen health systems in an interdependent world. The lancet, 376(9756), 1923-1958.
Watson, M. O., & Jolly, B. C. (2013). The future of Australian medical education: a focus on technology. Med J Aust, 199(5), S26-S28.