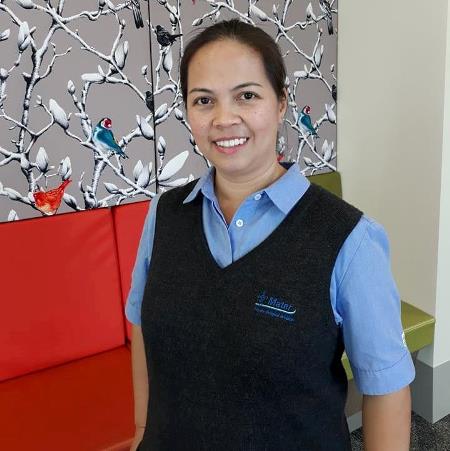 Cristina enjoyed a career as a school teacher for 10 years before embarking on a new beginning with Mater Education. She decided to make the jump into healthcare by studying Mater Education's Certificate III in Health Services Assistance in 2019 and has since landed a role she truly loves, as an Assistant in Nursing at Mater Private Hospital Brisbane.
Cristina chose to pursue a career in healthcare with Mater Education at 44 years of age after researching all the available options and providers. "For me, Mater is something positive – I have friends who have given birth here, and I have always had such good impressions of Mater. After reading a lot of positive reviews of Mater Education online, I knew it was where I wanted to study. I can honestly say the program lived up to my expectations."
After graduating, Cristina successfully obtained a role in the Mater Private Hospital Brisbane as an Assistant in Nursing. She makes an impact in her role, by bringing a little bit of joy and happiness to each day.
"I like spending time with my patients and talking to them. Hospitals can be very busy places, so if I can do my part to spend a little bit of extra time with them to make sure they feel supported, then I am absolutely going to do it."
At work, Cristina also shares a talent, enjoyed by her patients.
"I love to sing, so if my patients are in their 80s or 90s I will learn a song from their time and sing it while I am taking care of them. I love seeing their faces light up."
Cristina's small gestures make a significant impact with her patients. She is passionate about her career and offers advice to anyone who is unsure if this is the right path for them.
"It's like opening pages of a book. Trust the process of discovery, and rest assured that you will be completely supported by the Mater Education team. Take the step and be brave – you will never know unless you try."
Applications are now open for Mater Education's 2021 course intakes. Find out more here.