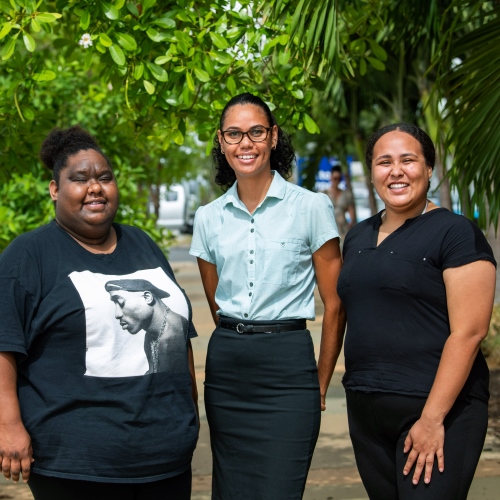 Blog written by Susie Gray, Program Coordinator, Vocational Education and Training
This year, Mater Education is celebrating 10 years of delivering its Diploma of Nursing program. I had the pleasure of being present when the first Diploma of Nursing student commenced at our brand new Townsville campus last month. There was so much excitement as the inaugural 30 students came together to commence their journey into healthcare.
I was pleased to meet and chat with all the students including Cecelia Anson who is one of three scholarship students at the campus. Cecelia studied a Certificate III Health Services Assistance under a traineeship on the Deadly Start program: an initiative of both Mater Education and MetroNorth for students of Aboriginal and Torres Strait Islander descent. She has now returned to her family in Townsville to continue her healthcare studies with Mater Education. These continuing connections represent the pride Mater Education takes in guiding students to success.
Mater Education supports the education of its students through various scholarship funds including students identifying as Aboriginal and Torres Strait Islander and those with refugee backgrounds. The purpose of these scholarships are to support students within vulnerable groups who are disadvantaged yet passionate about pursuing a career as a nurse. These students have a history of overcoming obstacles life has thrown at them and demonstrate commitment and compassion. They often have a long term goal (in addition to being a nurse) of being a role models to others. They want to make a positive difference to their family and their community. This scholarship aligns with our Mater Mission to support individuals and families disadvantaged by health or social circumstances and students like Cecelia demonstrate the core values of Mercy, Dignity, Care, Commitment and Quality – every day.
The cohort of students commencing in January 2020 at both our Mater South Brisbane and new Townsville campus' saw five wonderful students awarded scholarships: three in Townsville and two in Brisbane. Applications are accepted prior to the commencement of the January and July intakes each year with successful candidates receiving tuition coverage along with uniform and textbooks for their course.
Cecelia told me the scholarship would assist her financially and help her realise her dream of "returning to Torres Strait to work and show other young people what they can achieve when they work hard". Her enthusiasm for the course was infectious as was her desire to "do the right thing and help people".

If you have any questions regarding Mater Education's Diploma of Nursing or scholarship programs, please contact us on 1300 070 350 or email education@mater.org.au