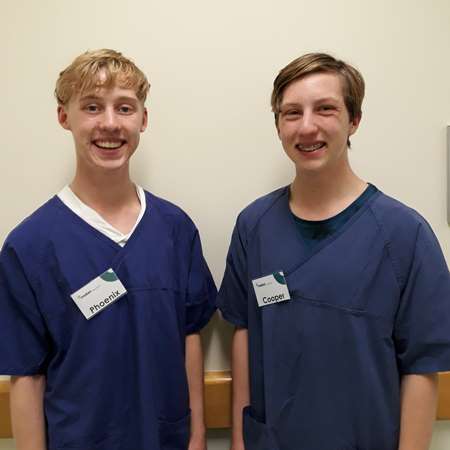 During 2020 school holidays, Mater Education's popular High School Health Adventure program took place, designed for senior high school students to gain an insight into the exciting and varied world of healthcare.
Brothers, Phoenix, 17 (Year 11) and Cooper, 15 (Year 10), both attended the three day program together, encouraged by their mum who works in radiotherapy.
Both Phoenix and Cooper are interested in different healthcare fields and enrolled in the program to kick-start their learning journey while still in school.
As Phoenix approaches his final year of school, he is certain that he wants to pursue physiotherapy, and wanted a taste of what his future profession may look like. "This program has allowed me learn about the different types of physiotherapy, and the many roles a physiotherapist has to play."
Cooper has a little more time up his sleeve to decide, but still has a keen indication on his future in paramedicine and nursing.
"I really enjoyed learning about patient care during the program, and it gave me an understanding into what your duty of care is to a patient, as a professional. The educators have been so approachable and knowledgeable, and we are learning from trained clinicians who have been doing this for a really long time."
Marie-Clare, Lead Educator for the program, coordinated the sessions to demonstrate the extensive options in healthcare. "The pressure to select a career can be daunting in high school. Our High School Health Adventure program is exploratory in nature, exposing students to a range of healthcare professions such as nursing, midwifery, physiotherapy, speech pathology, emergency and theatre, just to name a few. We find that students finish this program feeling incredibly inspired and passionate about a future in healthcare."
Whether you are certain about a career in healthcare, or you are exploring your options, Mater Education's High School Health Adventure will satisfy your curiosity. Find out more about our program, and available dates here.