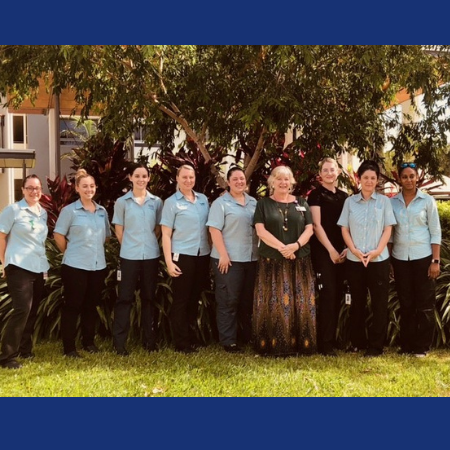 As early as Semester one, Mater Education Diploma of Nursing students start applying theory to practice through work-experience placements.
Recently, Mater Education Diploma of Nursing students in Townsville completed placement at the local Good Shepherd Nursing Home.
The Good Shepherd Nursing home is the largest in Queensland with a strong emphasis on exceptional care, looking after over 200 residents with a broad range of needs.
Focussed on non-acute aged care placement, the students were buddied with a range of qualified and experienced Assistants in Nursing (AINs), Enrolled Nurses (ENs) and Registered Nurses (RNs). They were further supported and facilitated by passionate Mater Education educator, Helen Weismann and The Good Shepherd Clinical Educator Coordinator, Nela Allen.
Nela has been incredibly impressed with the quality and care of Mater Education students, and all students have now been offered potential employment opportunities as AINs, while they complete their studies.
This will now be the fourth organisation in North Queensland that has offered Mater Education students employment as AIN's following placement. Through genuine partnerships, Mater Education are able to offer students an incredibly rich and meaningful experiences that benefits not only them, but also our partners.