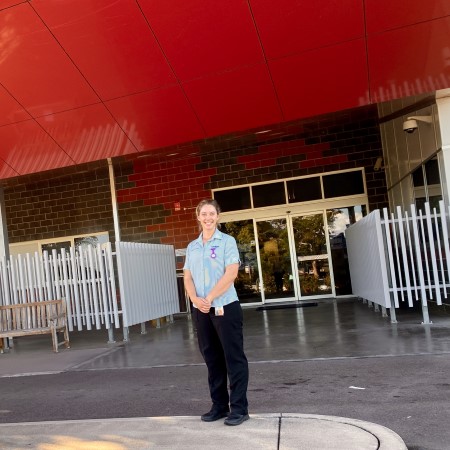 Vocational placement is an important component of Mater Education courses, giving students the opportunity to undertake practical training in the workplace.
We spoke to Emily, a Mater Education Diploma of Nursing Townsville student, who is passionate about rural and remote living, and aspires to work as a remote area nurse, specialising in palliative care.
Emily completed her three week placement at Ingham hospital, one hour from her home in Townsville.
"Overall, I absolutely loved my placement. The first two days were a little overwhelming and daunting, but as I got more into the routine, I felt more comfortable. Everyone was so welcoming and friendly, and made it the best experience they could for me."
Being a rural hospital, Emily got to experience the full range of responsibilities and tasks that often comes with working in remote communities.

"Unlike some of the larger hospitals, everything at Ingham hospital was on one ward. I got to experience the emergency department to palliative care. I know that I can handle everything from high-stress emergencies to providing nursing care to the elderly."
"I got to apply all the theory and all the work we have been doing into practice, which has been the most valuable part. It's a big responsibility being a nurse, and the placement has made me feel confident in my ability, and confident in my career choice."
Mater Education is committed to the development of future health professionals by providing student placement opportunities in supportive learning environments. As Queensland's largest Catholic not-for-profit healthcare provider, Mater's extensive network throughout the state provides Mater Education students with an array of placement opportunities both rurally and regionally.