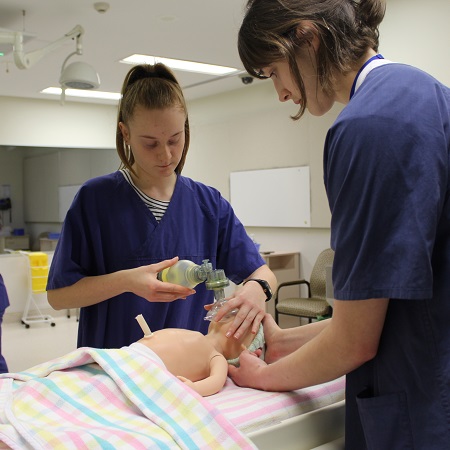 Mater Education's inaugural High School Health Adventure took place last week and the campus was buzzing with eager senior students ready for exposure to a career in healthcare. The three day course was delivered by an interprofessional Mater Education team and involved small group activities, skills stations and a Q&A panel with graduate health professionals.
From surgeries, suturing and birthing to an emergency resuscitation with the Royal Flying Doctor Service, the extensive range of simulated situations provided a practical understanding of different healthcare pathways that the students can pursue.

After speaking with students at the end of the three day immersion, they were all in agreeance that the experience was far more hands-on than they would have ever imagined. Learnings from Day One gave students confidence for the practical simulation they'd be participating in on Day Two and Three—and also solidified their decision to pursue a career in healthcare.

Chloe, who is planning to study to become a Surgical Nurse, said that the Health Adventure has helped her realise the many different career pathways she can take after study. "I knew I wanted to go into nursing, but this program has opened my eyes to the different pathways within nursing that I can take".

"It was great to learn the different roles within healthcare and how interprofessional the industry is. Each role communicates and works together and it was great to experience that".

When asked if they would recommend this to their friends, each of the 24 students said yes and even said "we'd come back to Mater Education with our friends and do it again!".

A second High School Health Adventure course will take place this week, with future programs scheduled for the September school holidays. If you are, or know of, a senior student in years 10, 11 or 12, you can apply for the next High School Health Adventure.

Limited spaces are available–be sure to get in quick. If you have any questions, please contact the Mater Education team on 07 3163 1500.