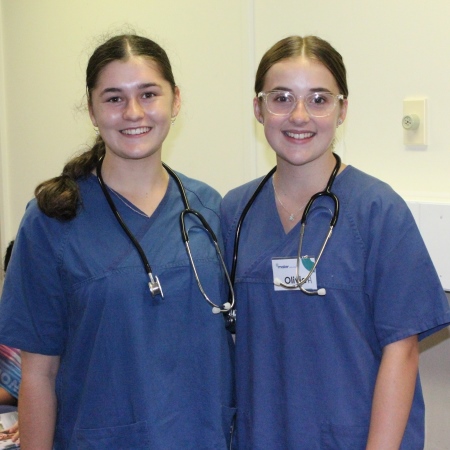 This week, Mater Education hosted 25 high school students in our first High School Health Adventure program for 2020.
Designed for senior high school students, the three day immersive course exposes students to what 'a day in the life' of a healthcare professional might look like.
Georgie and Olivia, embarking on their final school year, enrolled to gain hands-on experience in healthcare.
Olivia was originally interested in Allied Health, but taking part in the High School Health Adventure has helped shape her career decisions, "It's given me an idea of how broad the career paths in healthcare can be and I've learned about fields and specialties that I didn't even know existed. I've learned so much about nursing and midwifery through the simulations, which I'm really interested in".
For Georgie, it cemented that nursing and midwifery is the career path she would like to pursue. "I wanted to experience what it's actually like to work in healthcare as opposed to just reading about it, or seeing it on the television".
During the program, students are given the opportunity to speak to graduate health professionals, participate in small group activities and attend a small Education Fair.
Georgie has loved the unique curriculum, following simulated patients on their journey through the healthcare system. "It's been great to talk to nurses and doctors. We have been treated like professionals from day one, and even given scrubs and stethoscopes to wear!".
Both girls admitted their nerves on day one, but confessed by day three they were excited to come back and sad it was the final day of the program.
Registrations are now open for our High School Health Adventure programs for 2020. Find out more here.