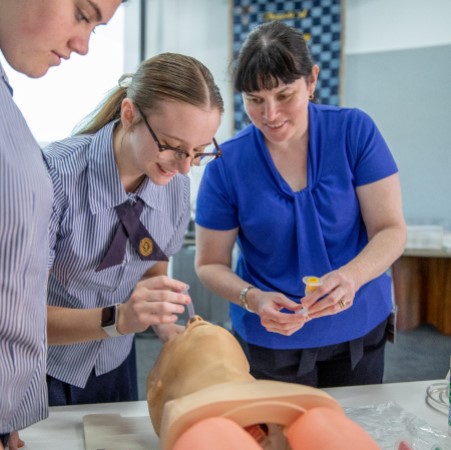 To celebrate Healthcare Simulation Week, Mater Private Hospital Townsville opened its doors to a group of Year 11 students to provide them with a high-tech simulation experience to better prepare them for a future in healthcare.
Students from St Patrick's College, The Strand stepped inside the hospital's state-of-the-art simulation training lab to undergo training for a number of practical health responses including life support and general nursing.
The training aimed to provide near real-life scenarios featuring manikins and simulated patients, to ensure students can build the knowledge, skills and confidence required when entering the workforce.
The training is set to futureproof the students who are well on their way to a career in health – currently studying Certificate II in Health Support Services, and Community Service – and then set to further study Certificate III in Health Services Assistance.
Mater Education's Director of Clinical Education, Stephanie Barwick, is excited to provide school-age students with the same level of advanced training some of the state's leading health agencies use.
"When training for a career in health, simulation training provides students with a realistic experience of what it is like to be in a clinical environment. There are so many opportunities to join the healthcare workforce. Hopefully this gives the students a taste of what it's like to be a clinician and encourages them to take their healthcare studies further in the future."
Mater Private Hospital Townsville Manager of Organisational Development, Talissha Wagner, added that this year the interest in a future in health from local schools has significantly increased.
"This year we have seen our numbers of interest in utilising simulation training more than double. With the recent focus on healthcare services and the obvious need for healthcare staff to provide for our community, there has been a real interest amongst the younger community in pursuing a career in health which is an exciting shift to see."
Mater Education is proud to support the use of simulation to improve the safety, effectiveness, and efficiency of healthcare delivery. Make sure to keep an eye out for our continued activity during Healthcare Simulation Week.