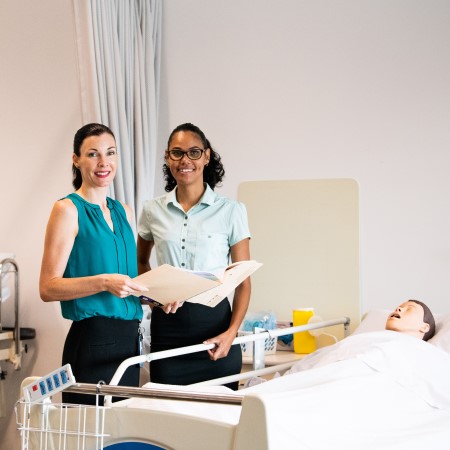 Sarah's journey into teaching nursing is underpinned by her passion to uplift the future generations of nurses. We spoke to Sarah about her role as Townsville's Diploma of Nursing program Lead Educator and why nursing is so important to her.
"From a young age I was always told 'Sarah, you can't fix the world', but my passion to help others and solve problems has always stuck with me. That's where I found my feet in my early nursing career. I loved interacting with others, I was always fascinated by the older generations and their tales of history through their eyes and I wanted to assist those in need."
"I spent my early undergraduate years working as an Assistant In Nursing (AIN) for the Sisters of Nazareth, at Nazareth House, in Ballarat. It was hard work, though incredibly rewarding and I enjoyed getting to spend a few minutes with the Sisters, each shift."
"My eyes were opened to sickness, suffering and compassion during my time as an AIN. It really struck a chord with me that there are others in need of help and care, and I wanted to be a part of that. This passion is still what drives me today with education."
"I have spent almost the better part of nine years completing various post-graduate qualifications and after completing my second Masters, I felt as though I was in a position to educate and encourage others to become nurses. This, plus 20 years in varying nursing roles, was key for me to be able to share my experience with others."
"For the last 17 years, my family have moved around the eastern side of Australia many times living the 'military family life'. Continuing my studies has helped me transition across the nursing spectrum during these times. The great thing about being a nurse is you can work anywhere, and I have been lucky enough to experience nursing in varying private and public organisations, primary healthcare and also general practice. I've also taught undergraduate nursing and Online Masters programs. While I've loved working in the clinical space, I've felt most comfortable teaching others and have developed a real passion for mentoring new staff and students over the years."
"I love engaging with my students, and knowing that we are positively changing the future nursing workforce here in Townsville and also within Australia. I enjoy being able to see the students thrive on placement and hear their tales of their learning journey. Seeing the 'aha' moments in class and being a part of that really is rewarding."
"In my role as the Lead Educator in Townsville, I have the privilege of leading the Mater Education Diploma of Nursing program. The first cohort started in January 2020 after an overwhelming response from the community. This is the beginning Mater Education's offerings expanding to North Queensland and has come at an exciting time for Townsville. It really is history in the making."
Mater Education is now taking applications for Townsville's Diploma of Nursing program for 2021. Learn from passionate educators like Sarah, and kick-start your nursing career.