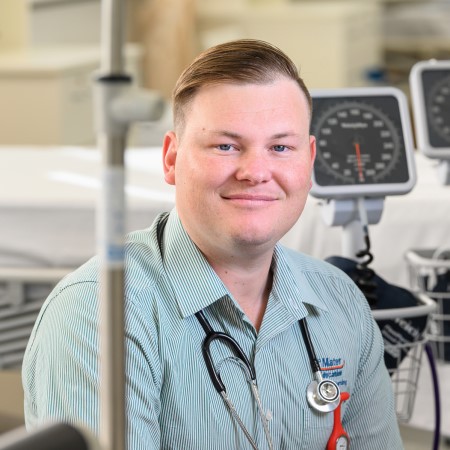 Excellence has long been a foundational value of Mater Education, and we are thrilled to see this recognised and celebrated through our students in this year's Queensland Training Awards.
Each year, the Department of Employment, Small Business and Training host their annual Queensland Training Awards which celebrates top achievers within the Vocational Education and Training (VET) space. 2020 marks its 59th year, with awards spanning across 14 categories recognising apprentices, trainees, vocational students, teachers and trainers, as well as training providers and employers.
This year, we are proud to have had four Mater Education student selected as regional finalists and three selected as regional winners where they then competed at state level. Each student has displayed outstanding commitment to their community and their studies and have a unique story to share.
Find out more about our inspiring students:
Christopher Miller – Metropolitan region winner – Vocational Student of the Year
Christopher is a Mater Education Diploma of Nursing course graduate who won the Metropolitan region Vocational Student of the Year, which recognises outstanding achievement by a student who recently completed a VET qualification.
Prior to studying his Diploma of Nursing at Mater Education, Chris was a member of the Australian Defence Force for 12 years, including two tours of Afghanistan. In 2015, he completed a combat first aid course, which ignited his passion for a career in healthcare. He gained best-practice clinical skills through his qualification with Mater Education and proved himself to be an and outstanding student, being appointed student representative of the student Alumni within his first semester of study. He is putting his qualification to good use as a disability support worker.
Emilie Bevan – South East region winner – Aboriginal and Torres Strait Islander Student of the Year
This award recognises outstanding achievement by an Aboriginal or Torres Strait Islander student within the QLD VET sector.
Emilie, a proud descendant of the Yugarapul people, has wanted to be a healthcare worker from a young age after caring for her nanna. Emilie achieved success in her Deadly Start Pathways program offered through Mater Education, and developed her skills and built on her personal strengths of compassion, trustworthiness, reliability and attention to detail.
Overcoming challenging times through her early teens, Emilie has become a role model for those around her as she takes on mentoring roles within school and as a youth advisor in the Yourtown Youth Advisory.
Axel Dushime – Metropolitan region winner – Equity VET student of the Year
Axel is a remarkable young man who has already faced challenges that most can't even imagine. Fleeing his war-torn home country of Burundi at 15, he faced family tragedy and imprisonment before arriving in Australia as a refugee in 2018.
Axel completed a Certificate II in Health Support Services through Mater Education as well as other VET qualifications through his school. With English as his fifth language, Axel has overcome language barriers and excelled as a visual and practical learner. Axel currently applies his qualification and skills as a carer for his mum. He is motivated to continue studying to become a nurse and pursue a career in healthcare.
Halle Carn – Metropolitan region finalist - Aboriginal and Torres Strait Islander Student of the Year
Halle completed her Certificate III in Health Services Assistance through Mater Education's Deadly Start program and OSMAC Apprenticeships. She completed her traineeship through the Metro North Hospital and Health Service and was selected as a finalist for the Aboriginal and Torres Strait Islander Student of the Year.
We are incredibly proud of these inspirational and highly-skilled and passionate individuals. We are confident that these students have made, and will continue to make, a difference to the lives of many as healthcare professionals.