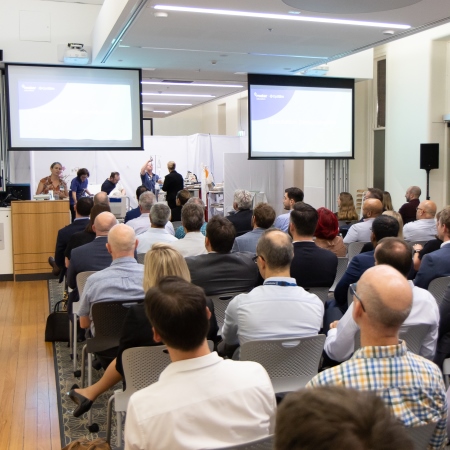 Last week, Mater's Capital Works team and Mater Education proudly presented their recent projects to a range of delegates within the construction and health design industry.
Central to the evening's theme were projects within Mater which involves the use of simulation. This included simulating patient scenarios such as medical emergencies in a new room to recognise design faults that could hinder clinical performance or impact patient safety.
These simulations were all run using OptiSim, a unique service offered by Mater which uses a tailored simulation method to emulate real-world scenarios. The purpose of OptiSim is to mitigate risk, reduce costs and enhance the experience of patients and staff.

Stephanie Barwick, Head of Partnerships, Programs and Innovation at Mater Education was proud to host the event and the recent OptiSim work.
"When we're dealing with life or death as clinicians, it's important to test system integration and procedures so that we're prepared and know that the workplace is ready for any situation. As an ICU nurse, the level of anxiety is already high. Knowing that the room we're walking into has been tested, provides reassurance in a time of uncertainty."
It was great to hear from a range of experts in health design and construction, project managers and clinicians to discuss the benefits of simulation and the impact it has had on their staff, patients, customers as well as where it has created efficiencies in their processes.
Overall, the evening was huge success and provided attendees the opportunity to network and hear about some of the latest projects going on in Mater.
If you are interested in learning about simulation or how your workplace could benefit from OptiSim, click here.